Memphis Belle Pizza
1 homemade pizza dough (11 ounces)
2 ounces apple butter
2 ounces barbecue pulled pork
1 ounce grilled red peppers
14 cup white cheddar cheese
12 cup pizza cheese
1 ounce barbecue sauce
Heat stone hearth oven to 500 degrees. Throw pizza dough into a 12-inch pizza crust. Spread apple butter on pizza surface. Spread pizza cheese and cheddar cheese evenly on surface. Layer barbecue pork, grilled onions and roasted peppers evenly. Drizzle barbecue sauce over pizza. Bake at 500 degrees for four minutes, turning in oven during cooking process.
Buffalo Bill Pizza
1 homemade pizza dough (11 ounces)
12 ounce buffalo sauce
2 ounces blue cheese dressing
1 ounce sliced pepperoncinis
3 ounces fried chicken nuggets
1 ounce blue cheese crumbles
34 cup pizza cheese blend
Serve on the side:
2 ounces celery sticks
2 ounces carrots
2 ounces ranch dressing
Heat stone hearth oven to 500 degrees. Throw pizza dough into a 12-inch pizza crust. Spread buffalo sauce and blue cheese dressing on dough surface. Layer fried chicken, pepperoncinis and all cheese evenly on surface. Bake at 500 degrees for four minutes, turning in oven during cooking process. Serve with celery, carrots and ranch dressing on the side.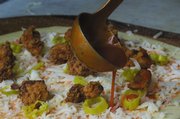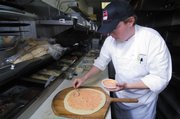 For Ben Hunt and Rex Brice, a pizza recipe calls for art and science.
Hunt, executive chef at Rex's American Grill & Bar in Steamboat Springs, said his favorite thing about a homemade pizza is the opportunity it provides him to be imaginative.
"You can experiment with what you want," Hunt said. "You don't have to be rushed. It's really like your dough is a canvas and you can do whatever you want. It's a good outlet for creativity."
But before anything makes it on the menu at Brice's restaurant, it also must adhere to a strict formula - one he recommends people also consider when they make their own pizza at home.
"When we look at creating a dish like this," said Brice, referring to one of the new custom pies on Rex's winter menu, "one of the things you're always going to look for is five flavors."
Those flavors, Brice said, are "salt, sweet, acidic, savory and fats." The Memphis Belle and Buffalo Bill pizzas satisfy the formula. And yet, although regimented, both are quite artful and strive to be experiential.
With ingredients such as apple butter and barbecue pulled pork, the Memphis Belle elicits memories of a summer cookout. And the Buffalo Bill mimics the experience of eating hot wings - all the way down to celery sticks and carrots on the side, which are great for a refreshing rest to strong flavors like the blue cheese and Buffalo wing sauce in the pizza.
There are, of course, other keys to a great pizza. Hunt advises that people resist the urge to use a lot of cheese.
"I like to have people really taste all the ingredients," Hunt said. "Sometimes the cheese can drown everything out."
Brice stressed the need for quality, fresh ingredients.
"Anything we do, we try to do it fresh and homemade," Brice said. "I think people notice that. I think the flavors come out."
Brice acknowledged the hesitation some feel about cooking at home and said the biggest inhibition people have about pizza is making their own dough. However, he said restaurants such as Rex's are more than happy to sell customers a ball of dough for a reasonable price.
"I think a lot of people are intimidated about cooking at home because they think they have to make everything from scratch," Brice said. "Just because we make it from scratch doesn't mean they have to."
There's also no requirement to try to toss the dough like a pro.
"If you can't dance, you're probably not going to be very good at tossing," Brice said as Hunt expertly sent dough spinning above his head. "Ben must have learned how to dance."