Document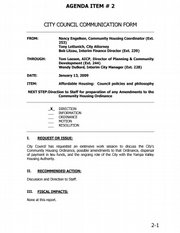 Steamboat Springs — Members of Steamboat Springs' business and development communities believe the city's affordable housing ordinance could be vulnerable to a legal challenge, and they threatened to take such a step if swift action isn't taken to change the law.
In a memo prepared on behalf of a group of local business leaders and developers, Denver lawyer Thomas Ragonetti wrote that he believes the city's affordable housing ordinances are challengeable under the takings clauses of the Colorado and U.S. constitutions, as well as Colorado's Impact Fee Statute and Taxpayers Bill of Rights, or TABOR.
Two main policies make up the city's affordable housing ordinance: inclusionary zoning and linkage. Inclusionary zoning requires developers to include affordable units in their housing developments. Linkage is an impact fee that requires developers to mitigate - with units or a fee - a percentage of the workforce housing their developments are thought to create.
Many in the development community have chalked the policies up as a failure and are hoping for major revisions. Developers who already have built units under the ordinance say they are finding it difficult, if not impossible, to sell them.
Brent Pearson, of Resort Ventures West, said the group that sent the memo to City Council does not want to resort to legal action. But in its letter to the council, the group wrote, "the status quo is not acceptable. If we are unsuccessful in moving toward new solutions in the near term, we will pursue other options."
City Attorney Tony Lettunich dismissed Ragonetti's opinion as "unique," and he also raised concerns about developers' preference to impose a real estate transfer tax on their projects as an optional alternative to the city's inclusionary zoning and linkage policies. Real estate transfer taxes are illegal in Colorado unless they are voluntary, negotiated as part of an annexation, or existed before the tax was outlawed.
Lettunich cited a Telluride ordinance that allowed rent controls as a voluntary option. The ordinance eventually was struck down by the Colorado Supreme Court. Rent controls also are illegal in the state.
"It was an illegal, voluntary option in a mandatory scheme," Lettunich said. "Even a voluntary (real estate transfer tax) in a menu of options for a developer would most likely be struck down. : In my opinion, it is much more assailable as unconstitutional than inclusionary zoning or linkage."
Council members asked for more legal research on the issue before taking a stance on it. And they also asked for more calculations comparing how a real estate transfer tax would compare to existing policies.
This and a variety of other issues - including major modifications to the city's affordable housing ordinance - were debated Tuesday night during a City Council meeting that included representatives from the Yampa Valley Housing Authority, the Community Alliance of the Yampa Valley, and the development/business group troubled by the existing ordinance. That group is calling itself Concerned Citizens for Affordable Housing.
Council took no official action Tuesday, and it will continue to debate the issue at a meeting in early February. However, after an informal poll showing it would be supported, council directed the creation of an ordinance that would suspend the linkage provision.
While developers have submitted data suggesting a real estate transfer tax of 0.5 to 1 percent would substantially outperform current affordable housing policies, calculations by the city and the Community Alliance suggest otherwise. Proponents of the tax argue that, as a perpetual fee, it will ultimately outperform the one-time units and cash produced by the existing ordinances. Critics point out that money pours in slowly and that a system based solely on fees, rather than units, ignores the issue of scarce and expensive land in the city.
A majority of council members expressed a willingness to make major modifications to, or even repeal, the city's 21-page community housing ordinance, which City Council President Loui Antonucci described as "cumbersome and confusing."
Councilman Jon Quinn said he would be willing to consider a repeal of the ordinance in its entirety, believing it has a negative impact on business development.
"It's reactionary just to throw it off the books," Councilwoman Meg Bentley disagreed, later noting that, "One of the things that is hampering the development of business is the lack of affordable housing."
Councilman Steve Ivancie agreed.
"You don't just take all this hard work : and then just all of a sudden say it's not working," he said.
Others, however, said they felt the ordinance was unfair because it lays a community problem entirely at the feet of the development community.
"When it comes to affordable housing, you look for someone else to solve the problem. That is not a community approach to try to solve a problem," resident Mary Brown said. "If the community's desire is only to make it somebody else's problem, I don't think it's a high priority."
Councilwoman Cari Hermacinski long has hoped to repeal linkage, but lacking a majority of council members who would support that step, she settled on drafting an ordinance to simply suspend it.
"You're essentially charged a penalty fee for creating a job," Hermacinski said. "I think that is particularly awful right now."
- To reach Brandon Gee, call 871-4210 or e-mail bgee@steamboatpilot.com