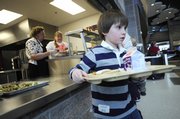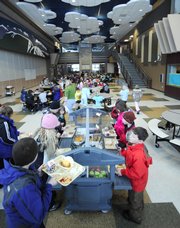 Steamboat Springs — In the first week of a new school lunch program preventing students from charging on overdue accounts, the amount of meal fees owed to the Steamboat Springs School District decreased from $10,000 to $2,800.
By Superintendent Shalee Cunningham's calculations, that makes the program a success.
"I think we did what we needed to," Cunningham said. "I certainly don't feel that anyone went hungry. We made sure they all ate."
Even so, some students will remain on a regimen of peanut butter and jelly sandwiches until all overdue fees are paid.
The new policy attracted nationwide attention when the district did not serve hot lunches to students with lunch accounts owing $6 or more, the equivalent of two lunches. On the first day back from the holiday break, Jan. 5, Steamboat Springs elementary school students who did not have the funds were given a pack of sunflower seeds and snacks, while middle school and high school students were cut off from any school food.
Since that time, elementary students have been given a peanut butter and jelly sandwich each day if their account is overdrawn.
Nutritional Services Director Max Huppert said he was happy with the results. By Tuesday - a week after the program took effect - the number of overdue accounts in the district had declined from about 500 to a little more than 100, and most of those are at the middle school or high school, he said.
"A lot of debts of $25 or more have been paid off," he said. But several debts of $100 or more remain.
School secretaries, beginning weeks before the holiday break, sent home letters with students and called parents whose students would be unable to eat when the new policy took effect.
Students on the free lunch program were not affected by the changes, but students on reduced lunch fees were limited to three overdue meals.
Parents with overdue accounts also were told about the free and reduced lunch options and urged to submit the forms if they qualify. About five parents signed up since the policy took effect, Huppert said.
Huppert said food service staff in school cafeterias moved the cashier's station, where students use a personal identification number to access their account, to the front of the serving line to ensure students received the appropriate meal. Food was never taken away from students, he said.
Unhappy customers
Not all students are happy with how they were treated after the policy took effect.
Riley Toye, a fourth-grader at Soda Creek Elementary School, organized a petition of 29 classmates protesting how students were treated when they were refused food the first day.
Riley's letter, dated Jan. 7 and published on page 8 of today's newspaper, states that she doesn't think it is right that students were refused hot lunches. Riley said she has been bringing in bagged lunches for students whose accounts are overdrawn.
Huppert said it was one day with just snacks and without peanut butter and jelly sandwiches, but elementary students have been provided with sandwiches since that day.
Riley's father, Stace Toye, said he was unhappy with how the district communicated the students' lunch balance.
"I know they said there was all this effort to let people know, but we didn't know anything," he said.
He said the family got a call 45 minutes before Riley's lunch on the first day of the new policy, but they were unable to get to the school in time to pay off her account. Riley got a bag of seeds that day and has been taking her own lunch since.
Soda Creek secretary Tammy Farrell has made hundreds of calls to parents during the past week. She said she doesn't expect at least one overdue account to be paid for some time.
Farrell said one student's mother would pack lunches for him to bring to school, but when faced with the options presented in the cafeteria, he often would choose to charge a meal instead. His mother did not know the account was being overdrawn until Farrell began mailing overdue notices to the family.
The student now has $57 in overdue charges, and Farrell said the mom has figured out a way to teach the student a lesson in the process of paying off the amount.
"Now I'm waiting for this little guy to do enough chores to make it up," she said.