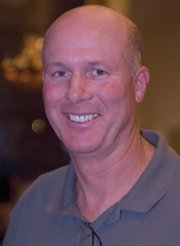 If you go
What: Special meeting of the Steamboat Springs City Council to discuss a prioritization of city services
When: 5 p.m. Thursday
Where: Centennial Hall, 134 10th St.
Call: City offices at 879-2060 for more information; to listen live to meetings of the Steamboat Springs City Council, call 871-7070
Steamboat Springs — Jon Roberts inched closer to an office in City Hall at a meeting of the Steamboat Springs City Council on Tuesday, but he was not officially offered the job of city manager.
The council voted, 5-2, to ratify a contract with Roberts but to withhold City Council President Loui Antonucci's signature on the document pending further background checks. Council members Meg Bentley and Walter Magill dissented, preferring to have the contract signed immediately and describing the additional background checks as a waste of time and taxpayer money.
"I think this is over the top and needlessly spending time and taxpayer money," Bentley said.
Roberts - who is the city manager in Victorville, Calif., and who was the city's only finalist for the position after Jackson, Wyo., Town Manager Bob McLaurin removed himself from contention - attended Tuesday's meeting with Victorville City Councilman Mike Rothschild to address questions raised about his past performance. Victorville Councilman Terry Caldwell participated in the discussion by telephone.
The three reiterated Roberts' explanations for issues including ongoing litigation involving Victorville and Roberts, and cost overruns at a city-owned power plant. After conversations with a Victorville attorney, Steamboat Springs City Attorney Tony Lettunich said he was "comforted" about a $33 million lawsuit that Roberts has maintained will be dismissed.
Rothschild acknowledged the cost overruns at the power plant but said they project still was in the city's best interest because of the businesses and jobs it attracted. Victorville council members said criticisms have been unfairly aimed at Roberts when they should have been aimed at the Victorville City Council, whose will and policies they said Roberts merely was carrying out. Caldwell chalked up numerous reports in the Victorville Daily Press critical of Roberts to a strained relationship between the city and the newspaper.
Council's decision Tuesday followed a 6-1 vote after a public interview of Roberts last week to make him an offer pending contract negotiations. Loui Antonucci dissented because he preferred to engage in a further due diligence period. Council members who changed their vote Tuesday in favor of the additional background checks said they did so for a variety of reasons.
Councilwoman Cari Hermacinski said she was disappointed to learn that the city's executive search firm, Peckham & McKenney, only had checked Roberts' criminal and credit history. Councilmen Steve Ivancie and Jon Quinn said they felt the additional checks ultimately would prove unnecessary but voted in favor of them in an effort to appease skeptical members of the community. Quinn said he wanted to give Roberts the best chance possible at success.
"I'm very confident that our city manager is sitting in the audience tonight," Quinn said. "I would be surprised to find that any large skeletons fall out of this guy's closet."
During a break later in the meeting, Antonucci said the city will hire a firm - at an estimated cost of $1,500 - to check Roberts' references and talk to other people in Victorville. Roberts also agreed to allow the city of Steamboat Springs' department heads to talk to his department heads in Victorville, Antonucci said. Antonucci also said some council members have taken it upon themselves to contact officials and organizations in Victorville, including the Daily Press.
"I don't expect everybody to love him," Antonucci said, "but can they vouch for his character?"
The additional work is expected to take less than a week, and if no serious concerns are unearthed, Antonucci will sign the contract. Roberts then will have 5 days to accept the offer and, if he does, would start about a month later.
Under the contract ratified Tuesday, Roberts would be paid a base salary of $170,000 a year. He also would receive benefits including a monthly automobile allowance of $500; a monthly cell phone allowance of $100; compensation for dues, subscriptions and professional development; a $10,000 allowance for relocation and moving expenses; $2,500 a month for temporary housing expenses for a maximum of six months or until the sale of Roberts' residence in Victorville, whichever comes first; 40 hours of administrative leave a year; and the benefits received by all city employees including the same amount of paid time off reserved for employees who have been with the city for more than 15 years and an immediate 100 percent vesting of the city's contribution to his retirement plan, which for other employees vests at a rate of 20 percent a year with 100 percent vesting at the end of five years.
Also on Tuesday, council members discussed for more than three hours affordable housing issues with representatives from Yampa Valley Housing Authority, the Community Alliance of the Yampa Valley and the development community. For a story on that discussion, see Thursday's edition of the Steamboat Today.
At 5 p.m. Thursday, City Council will gather for a special meeting to discuss a prioritization of all city services. If city revenues come in lower than expected, city officials hope to use the ranked list of services to guide budget cuts.