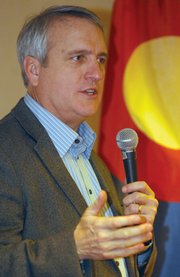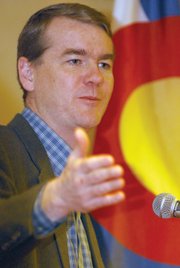 For more
For more on the Gov. Bill Ritter's visit and a closer look at transportation issues and a federal economic stimulus bill, see Wednesday's Steamboat Today.
Michael Bennet is the first to admit he doesn't bring the same rural issues credentials to the table as Ken Salazar, the man he is set to replace in the U.S. Senate.
But that didn't stop him from telling Senate Majority Leader Harry Reid, D-Nev., that a placement on the Senate Agriculture Committee will be his "No. 1 goal" as the newest and youngest member of the nation's top legislative body.
Bennet's announcement of this request delighted many of the politicians and residents in attendance at a pancake breakfast at the Sheraton Steamboat Resort on Monday. The visit was part of a tour with Gov. Bill Ritter, who is traveling the state to introduce Bennet, discuss the conditions of the state, and highlight his 2009 goals.
"I'm going to spend the next two years gaining the confidence of all of Colorado," said Bennet, who said he plans to defend the seat in the 2010 election and admitted he is not an expert on issues of high interest to the Western Slope such as water, oil and gas development and public lands. "I know something about all these issues, but people in this room know a whole lot more. Pease talk to me, and I will keep visiting until you tell me to stop."
Bennet, a 44-year-old Democrat and the former superintendent of Denver Public Schools, was selected by Ritter to replace Salazar, the San Luis Valley Democrat whom President-elect Barack Obama selected as the next secretary of the interior. Salazar's appointment is pending Senate confirmation.
Ritter surprised many in selecting Bennet, who has never held an elected office. In choosing him, Ritter said he was looking for the candidate who would mesh best with the Obama administration. Ritter described Obama as a "transformational" leader and used the same word to describe Bennet's thinking. In a later interview with the Steamboat Pilot & Today, Ritter said Bennet was a finalist to be secretary of education in the Obama administration.
Ritter said Bennet will seek bipartisan solutions and is a quick study.
"He wasn't a person who was steeped in educational ideas, but he became a reformist" as superintendent of Denver schools, Ritter said.
Ritter guessed Bennet will have an opportunity to vote on a federal economic recovery and reinvestment bill being pushed by Obama and debated in Congress. Bennet said the stimulus package, which Ritter guessed will cost $775 billion, is necessary.
"I'm a huge believer in balanced budgets," Bennet said, "but this is an extraordinary time" that will require significant deficit spending by federal government.
State of the state
Also Monday, Ritter outlined goals for the upcoming year and discussed budget shortfalls confronting the current year budget and influencing the creation of a 2009-10 budget. In cutting $600 million from the current year budget, Ritter said he hopes safety-net programs such as Medicaid and higher education spending will be impacted the least.
"We think it's just critical for us not to back off on our commitment to higher education," he said. "Our core value : is still that the best economic development is educational development."
Other areas of spending will be more subject to cuts, including the $20 million the state currently spends marketing itself through the Colorado Tourism Office.
"I believe that it has a very significant return on the investment," Ritter said, "but in a downturn, the truth is everything's going to have to take a hit."
Last month, state Sen. Al White, R-Hayden, said he would fight any attempts to reduce tourism spending as a member of the Legislature's Joint Budget Committee.
Health care and education reform are on Ritter's 2009 agenda. He said he hopes to institute a "hospital provider fee" that would be charged on a per patient basis and would be matched by money from the federal government.
"At a minimum, we think we'll be able to insure another 100,000 people," the governor said.
On the education front, Ritter said he hopes to institute a dual-enrollment program that would allow students to earn a high school diploma and an associate's degree in five years.
"We think you could keep kids in school who might otherwise leave," Ritter said. "In most places, a high school education isn't sufficient to enter the workforce."
- To reach Brandon Gee, call 871-4210
or e-mail bgee@steamboatpilot.com