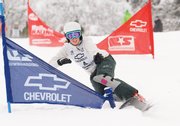 Many of the 67 racers in Friday's Race to the Cup came from foreign countries around the globe, but in the finals, three of the four riders were right at home on the slopes of Howelsen Hill.
"I'm very, very happy," said Thedo Remmelink, the Steamboat Springs Winter Sports Club's alpine snowboarding coach. "Our riders had a great night."
On the men's side, Steamboat's Mike Trapp was the fastest rider on the hill in qualifying with teammate Darren Ratcliffe, who had a slight bobble on his second run in qualifying. Trapp made his way to the finals by using an aggressive line to move past Rob Berney, Matthew Carter and Dylan Riley. On the other side of the bracket, Ratcliffe found a fast outside line and made quick work of Alexander Hernandez and Garrett Sorteberg. But in the semifinals, the Steamboat Springs rider fell behind Ryan McDonald after the first run.
The results made Ratcliffe take a more aggressive line, and it paid off with a blistering second run to erase the gap and set up a showdown with Trapp.
"I've been watching Trappy (Mike Trapp) since midway through last season," Ratcliffe, Friday night's men's parallel slalom winner, said. "He's really been turning it on, and I had to go full bore. He's a young guy with a lot of heart, and he really charges. I respect that."
In the finals, Ratcliffe said, he stayed with the slightly straighter line because he knew it would be tough to get past his speedy teammate.
"I think Darren's maturity might have helped him in the final runs," Remmelink said. "He's had a little more experience than Mike and I think he was able to use that."
"I'm happy for sure," Trapp said after losing to his teammate in the final round. "It was a great night : a beautiful night."
Ratcliffe said the win was a huge confidence builder.
"It's my first podium in a long, long time," Ratcliffe said. "It's been 10 years, so this was a big win for me. I've been working really hard to get here."
Lavigne a winner
On the women's side, Winter Sports Club member Madeline Wiencke was unbeatable through eight runs, and after edging Ariane Lavigne on her ninth run of the night, she looked like she would cruise to the win.
"It's hard to tell what happened," Wiencke said. "I was pretty tired at the end, and I let myself get in the soft snow. I landed on my shoulder that was injured in the past, and I couldn't recover from it. I just couldn't push myself back up."
Lavigne said she saw Wiencke go down and knew she had to make the most of it.
"I just tried my best, and in the middle, I saw her fall, I just tried to continue," Lavigne said. "It was good. It was a good challenge for me."
Canadian Marianne Leeson defeated Canadian former Winter Sports Club rider Ekaterina Zavialova in the consolation finals to place third in the women's results. Ryan McDonald topped Steve Barlow in the men's consolation.
The Race to the Cup, part of the North American Cup Series, continues today with parallel giant slalom. Qualifying is scheduled to begin at 11:30 a.m., and the finals are expected to start at about 2:30 p.m.