Past Event
Friday, January 9, 2009, 6 p.m. to 8 p.m.
K. Saari Gallery, 837 Lincoln Ave., Steamboat, CO
Not available / Free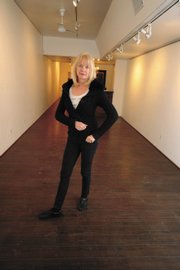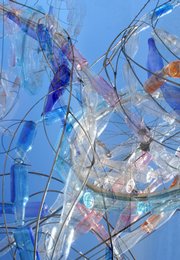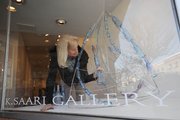 When Marta Thoma was asked to create a sculpture out of "reclaimed materials" during an artist residency more than 15 years ago, she wasn't sure what to make of the mounds of objects most people would qualify as trash.
Then, a collection of empty tequila bottles caught her eye. The way light came through the plastic appealed to Thoma, and she crafted the bottles into 8-foot-tall structure she called "Earth Tear."
Since that project, Thoma has moved on to making large art installations out of hand-dyed glass bottles and welded steel rods, drilling holes in the glass with a diamond bit to make sure it doesn't crack. An exhibition of Thoma's glass sculptures opens with a reception from 6 to 8 p.m. today at K. Saari Gallery.
As she waited for the pieces of her 12-foot-by-4-foot installation "Mountain Wind" to arrive in Steamboat Springs on Wednesday morning, the California-based Thoma shared her enthusiasm for "using everyday objects to make a thing of beauty."
"I like the idea that they have layers of meaning," she said. "They're objects that people have used, and they become transformed by making them into art."
In her show at K. Saari Gallery, Thoma presents a large installation called "Mountain Wind" along with six smaller pieces that are more figure-oriented. "Mountain Wind" uses 300 to 350 glass bottles of varying cool-color shades.
"I like to think about it as the nature of the wind," Thoma said about the sculpture. "The bottles completely go with wind because there's moisture in the air, and there's that water cycle that's always involved with the weather and the atmosphere."
Paired with her smaller pieces, Thoma said she hopes her work depicts a meeting between nature and society. The smaller works tend to be closer to human forms, while the larger ones tend to address topics in nature.
"I like to use nature as a metaphor for what is happening in the world," Thoma said. The use of recycled materials also connects her themes. "Society is tied in by the fact that they're bottles, and bottles are mass-produced (by society)."
Kimberly Saari, owner of K. Saari Gallery, said it was important to Thoma to have her show in Steamboat during the winter months so that the ice outside would mirror the ice-like qualities of the glass sculptures. Because the bottles are hand-dyed, they can catch light in new ways at any point in the day, Thoma said.
"The colors overlap each other," she said. "The artwork is always changing with the light."