Document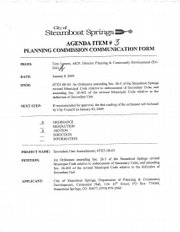 Past Event
Thursday, January 8, 2009, 6 p.m.
Centennial Hall, 124 10th St., Steamboat Springs
Not available
Seven months after a Steamboat Springs man died in a converted garage apartment with no smoke detectors, city officials will consider an ordinance aimed at improving city regulations for secondary residential units.
The ordinance would close an enforcement loophole and require inspection for health and safety issues of secondary units, which are small, long-term rentals located on the same lots as principal dwelling units. David Engle died of smoke inhalation June 15 when he fell asleep while cooking in his small apartment at 705 Pine St. The unit was not registered as a legal secondary unit with the city.
The Steamboat Springs Planning Commission will review the proposed ordinance today.
"It was council's direction to staff to see how we could develop some ordinances and guidelines to control secondary units," interim City Manager Wendy DuBord said. "(The ordinance is) a direct result of the public discussions and City Council direction."
Under current policies, when the city learns about an illegal unit, owners have 15 days to come into compliance before the municipal court judge can start imposing fines of as much as $999 a day. With no language in the Community Development Code pertaining to repeat offenders, the owners of illegal secondary units can come into compliance within 15 days only to continue operating an illegal unit sometime thereafter. If the owner is caught again, he or she still is afforded the 15-day remedy period.
The new proposed ordinance says that a second notification is not required, and it applies to all violations of the Community Development Code.
Current policies also do not require that secondary units be inspected for health and safety issues when registered. The proposed ordinance does. Also, for eight months, the city and the Routt County Regional Building Department will eliminate or reduce fees to encourage owners to legalize unregistered units.
According to a city staff report, code enforcement officers have spent months trolling the city looking for possible illegal secondary units.
"They have looked predominantly in the downtown area, and I think they found somewhere between 20 and 30 units that we do not have registered that appear clearly to be secondary units," said Leeson, noting that there are far more illegal units than he originally thought.
The city is prepared to send property owners letters informing them about the new ordinance, if it is adopted, and the eight-month grace period.
Also today, planning commissioners will review a proposed historic preservation ordinance prepared by a citizens committee to replace existing policies. To read a Dec. 28 article about that ordinance, click here.
If approved by the Planning Commission, the two ordinances are scheduled for first readings with the Steamboat Springs City Council on Jan. 20.