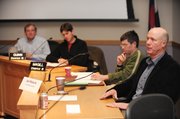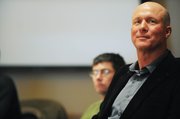 Steamboat Springs — The Steamboat Springs City Council enthusiastically chose Jon Roberts to be its next city manager after more than two hours of public grilling in Centennial Hall on Wednesday.
The mood in the room traveled from humorous to serious to sometimes awkward as council interviewed Roberts - and then publicly debated whether to offer him the job. Roberts rarely appeared stumped and confidently responded to concerns raised about his performance as city manager in Victorville, Calif.
Council voted, 6-1, to give Roberts the job pending his acceptance of the position, contract negotiations and the official adoption of a contract at a future City Council meeting, possibly as soon as Tuesday.
City Council President Loui Antonucci was the dissenting vote. He preferred to spend the next week simultaneously negotiating a contract and further investigating issues raised by the Steamboat Pilot & Today and others.
"At the end of the day, this is our decision to make. It's not the staff's, the press's or the public's," Councilman Jon Quinn said. "It's my opinion that our due diligence has been done."
Antonucci said he wholeheartedly supports Roberts and that if the city were a private business, he would have had the job weeks ago. Because it is a public hire, however, Antonucci said it would be better for the entire community to be comfortable with the decision.
"I just think we need to turn over all the stones," Antonucci said. "I just think we need to hear these answers from someone other than the applicant."
Councilwoman Cari Hermacinski first raised the idea of an extended due diligence period, but backed down under overwhelming statements of support from fellow council members, city staff and the members of the citizens committee that helped council in the hiring process.
"Once I knew I didn't have the votes to do it, I thought it was important to show my support" for Roberts, Hermacinski said.
Among the concerns raised were multimillion-dollar cost overruns, first reported last year by the Victorville Daily Press, at Victorville's Foxborough power plant. Roberts and other Victorville officials have blamed the overages on issues such as errors made by a consultant and state regulatory changes. Despite the setbacks, longtime Victorville Councilman and former Mayor Terry Caldwell said Tuesday that he still considers the project a success because it allowed the city to attract industry and jobs by offering cheap electricity.
"It ultimately will pan out as we expected," Caldwell said. "The cost overruns and subsidies were still in the city's best interest."
Caldwell said he would not be disappointed if Roberts failed to earn the job in Steamboat.
"He is a leader. He's decisive. He's one to quickly grasp direction and move quickly to implement," Caldwell said. "Steamboat Springs' gain is Victorville's loss, and it will be a big loss."
When it comes to the Foxborough project and other concerns - including a 2006-07 audit of Victorville finances that is more than a year overdue - Roberts' explanations clash with reports in the Daily Press. In his interview Wednesday, Roberts said his relationship with the newspaper has been strained for two years, and he said the newspaper has reported inaccurate information. A reporter for the newspaper said Wednesday that Victorville officials have never been able to prove false any published information and that the newspaper has not printed any retractions on the disputed matters.
The first 100
Asked about his priorities in his first 100 days as city manager, Roberts said he would immediately address the city of Steamboat Springs' budget, which he said lacks detail.
"I want to see and monitor all of the expenses and track even the very small expenditures," Roberts said.
Roberts said the city has done a good job of spelling out what it wants in its master plans, but has paid too little attention to how to pay for those goals.
"I think the community has done a wonderful job of identifying what it wants to do," Roberts said. "Now we have to figure out how we do it."
Roberts ventured some suggestions for improving the city's affordable housing policies. He said the city should allow developers to pay fees at the end of construction rather than the beginning. Roberts said this would not diminish the city's goals, and would reduce the carrying costs and risk for developers, increasing their chances for success.
In previous interviews with the Steamboat Pilot & Today, Roberts said he also sees ways traffic congestion could quickly and easily be improved on Lincoln Avenue in west Steamboat, but would not divulge his "trade secrets."
"Jon Roberts came over a month ago and expressed enthusiasm like no other," said Robbie Shine, a city employee who served on the citizens search committee. "I think we would be happy to have such a leader come in and help us run the city."
Another primary concern for the upcoming year, Roberts said, will be weathering the current turmoil in the economy.
In describing his management style, Roberts said he is one who prefers to give his employees ownership of their work by remaining hands-off unless help is requested.
"A technique I have used is to give individuals responsibility for the project," Roberts said. "When that project is successful, they get the credit for that. I think that sense of accomplishment, responsibility and reward for a job well done is the motivator."
Roberts said he believes the dissemination of good information to council members and the public is key to good government. He said he would not tolerate the presentation of biased information to City Council.
"That is not the role of staff, and it's one of the key issues for me," Roberts said. "If that was ever done deliberately, that employee would not work for me the next day."
In a written answer to a question previously submitted by the city, Roberts said he requires all his employees to publicly support decisions of the City Council.
Back to basics
In Victorville, Caldwell said Roberts' primary areas of focus were huge, time-consuming projects such as the Foxborough power plant and the redevelopment of the George Air Force Base.
"To that extent he may not have been as directly involved in the traditional municipal services," Caldwell said.
Roberts said this is one of the reasons he was interested in Steamboat's city manager position, where his salary of about $300,000 in Victorville will probably be cut in half.
"It's taken me away from what really is my love and passion, which is local government," he said. "As a city manager you get to see all facets of democracy in action."
In further explaining his willingness to take such a major cut in pay, Roberts said this would not be the first time he has made such a decision. In 1992, Roberts said he left the private sector and became a city engineer in Victorville to allow him to spend more time with his family.
"The results of that have been worth more than any amount of money to us," Roberts said.
Now, Roberts' wife, LeAnn, lives in the couple's home in Colorado Springs to help support their son and some of his fellow cadets at the Air Force Academy.
"I'm at a decision point in my career," Roberts said. "I'm sure I'm not the first person who has taken a pay cut to live in Steamboat Springs. : Your community has everything."
Roberts said he and his wife would continue to spend some time in Colorado Springs, but that the couple plans to reside primarily in Steamboat.
"I will be very involved in and very committed to your community," Roberts said. "(LeAnn) will be the better half of the deal. She will be very involved in your community."
During his time here this week, the couple experienced what are likely to be some of Steamboat's coldest temperatures and heaviest snowfall of the winter. Pressed on whether he is truly prepared to leave sunny Southern California, Roberts said he and his family are "adventurous."
"My kids are all scuba divers, skydivers, snowboarders," Roberts said. "We're not afraid of a little tough weather."
By his own admission, Roberts will go from leading a community very much in favor of growth and job creation, to one with more nuanced feelings about development and its impact on small-town, mountain lifestyles. But Roberts has also said he understands small, tourist economies because he grew up on California's Catalina Island. Councilman Scott Myller said that diversity of experience would be valuable in leading Steamboat.
"I think you're the perfect guy to figure out our puzzle," Myller said.
- To reach Brandon Gee, call 871-4210 or e-mail bgee@steamboatpilot.com