Document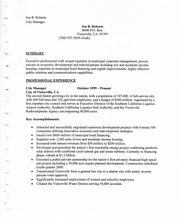 Steamboat Springs — The Steamboat Springs City Council enthusiastically chose Jon Roberts to be its next city manager after more than two hours of public grilling in Centennial Hall this afternoon.
Council voted, 6-1, to give Roberts the job pending his acceptance of the position, contract negotiations and the official adoption of a contract at a future City Council meeting, possibly as soon as Tuesday. Roberts said he will accept the position.
City Council President Loui Antonucci voted against the motion, preferring to spend the next week simultaneously negotiating a contract and further investigating concerns raised about Roberts by the Steamboat Pilot & Today and others regarding Roberts' current performance as city manager in Victorville, Calif. Antonucci said he wholeheartedly supports Roberts and that if the city were a private business, he would have had the job weeks ago. Since it is a public hire, however, Antonucci said it would be better for the entire community to be comfortable with the hire.
"I just think we need to turn over all the stones," Antonucci said.
Councilwoman Cari Hermacinski first raised the idea of an extended due diligence period, but backed down under overwhelming statements of support from fellow council members, city staff and the members of the citizens committee that helped council in the hiring process.
"Once I knew I didn't have the votes to do it, I thought it was important to show my support" for Roberts, Hermacinski said.
To reach Brandon Gee, call 871-4210 or e-mail bgee@steamboatpilot.com