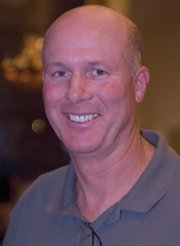 If you go
What: Steamboat Springs City Council's interview of city manager candidate Jon Roberts
When: Noon Wednesday
Where: Centennial Hall, 124 10th St.
Call: City offices at 879-2060 for more information; to listen live to meetings of the Steamboat Springs City Council, call 871-7070
Jon Roberts
Current job: City manager, city of Victorville, Calif., 1999 to present
Employees: 440 full-time, 220 part-time
Budget: $568 million
Age: 53
Family: Married with three children ages 23, 20 and 18
In his words: "I know how to bring stability to an organization. I think that's something Steamboat needs. There's been a high level of turnover in the staff, and some of that is still going on today."
Source: Roberts and his resume
By the numbers
- Population
Steamboat Springs: 9,516
Victorville, Calif.: 107,221
- Foreign-born residents
Steamboat Springs: 6.2%
Victorville: 17.8%
- Median age
Steamboat Springs: 32.4
Victorville: 28.2
- Median household income
Steamboat Springs: $54,647*
Victorville: $48,462**
- Owner-occupied homes median value
Steamboat Springs: $308,100
Victorville: $296,700
* in 1999 dollars
** in 2007 inflation-adjusted dollars
- Source: U.S. Census Bureau
Steamboat Springs — Two City Council members in Victorville, Calif., offered varying assessments of the man likely to be named Steamboat Springs' next city manager.
Victorville City Manager Jon Roberts arrived in Steamboat on Monday to meet with city officials and tour city facilities in advance of a final interview Wednesday with the Steamboat Springs City Council. Council appears poised to offer the city manager job to Roberts, the only finalist for the position.
"I'm disappointed he's leaving our city. I'll tell you that for a fact," said Victorville Councilman Mike Rothschild, who said Roberts still would have a job in Victorville if he doesn't earn the post in Steamboat. "He's an excellent city manager. He knows every facet of running a city."
Fellow Councilman Ryan McEachron, however, said he is troubled by the timing of Roberts' decision to leave Victorville given that an audit of the city's 2006-07 finances is more than a year overdue.
"I'm concerned with what we're going to find out in the audit," said McEachron, who stressed that he is in his first year as a council member and has limited familiarity with Roberts. "Him leaving before this thing is even published is a concern of mine. Who's going to answer the questions we have when it's published? There's some stuff I suspect that will not be good news."
Roberts said the audit delay is the result of Victorville's new finance director choosing to switch auditing firms.
"They are going through all of our audits with a fine-toothed comb," said Roberts, who added that Victorville's audits typically take a long time because of the complexity of the city's finances. "This is simply a process of a much higher level of detail."
Roberts also downplayed a $33 million lawsuit brought against the city last month by an investor group "citing three counts of fraud, breach of contract, unfair competition and more, stemming from an April business trip to Asia," according to the Victorville Daily Press. Roberts was on the trip.
He said the lawsuit is unfounded and will be dismissed but deferred additional comment to Victorville's attorney.
McEachron said the lawsuit should not raise concerns about Roberts.
Asked to describe Roberts' management style, Rothschild said he was most impressed with Roberts' management of people. Rothschild also admired traits Roberts brought to the table as an engineer.
"I think there's too many lawyers in city government and not enough analytical people like engineers," Rothschild said.
McEachron described Roberts as a hands-off manager who was more of a thinker and figurehead who focused mostly on "big-ticket items."
"He doesn't tend to micromanage in any way," McEachron said.
Contract discussions begin
The Steamboat Springs City Council will interview Roberts at noon Wednesday in a meeting open to the public. A second finalist, Jackson, Wyo., Town Manager Bob McLaurin, removed himself from contention last week citing personal and professional reasons.
Roberts owns a house in Colorado Springs. The Victorville Daily Press has reported that his wife lives in the home and that Roberts makes nearly weekly trips there and has Colorado license plates on his truck. The arrangement bothers McEachron.
"My biggest concern in running for council was that he does, in essence, live in Colorado," McEachron said. "He should live here and live with his actions and the City Council's decisions like any other resident."
Roberts has said that he and his wife have surveyed the local housing market and are prepared to locate within Steamboat Springs if he is offered the job. That's something city officials appear to be preparing to do. At its meeting tonight, an executive session "to discuss city manager contract negotiations" is scheduled in advance of Wednesday's final interview. A similar session is scheduled after the interview.
"I'm assuming they're going to at least enter into some contract negotiations with him," City Attorney Tony Lettunich said. "He's not been offered the job, but we're down to one candidate, so you do the math. I thought we should at least anticipate what the discussion points with Mr. Roberts might be."
Interim City Manager Wendy DuBord said City Council is prepared to offer Roberts the job "contingent upon them liking what they hear and what he says and that they are confident he can do the best job for the city : and that he's willing to take the job if offered."
"It's definitely not a done deal," DuBord said.
In meetings with DuBord and Lettunich on Monday, Roberts said a contract was discussed "generally."
The city of Steamboat Springs is offering an annual salary of $140,000 to $180,000 - plus benefits that could include housing assistance, a performance bonus or both - for the position of city manager. Roberts currently earns about $300,000 in Victorville. Rothschild said he admires Roberts for being willing to take a pay cut in exchange for a higher quality of life near his family.
"I compliment him for that," Rothschild said. "That takes a lot of courage."
If offered the job, Roberts said he would take it but would not be able to start for a month because his current contract with the city of Victorville requires him to give 30 days notice.
In written responses to questions submitted by Steamboat Springs City Council, Roberts said the top five issues affecting Victorville are declining revenues resulting from the economic downturn, traffic congestion related to growth, low- and moderate-income housing requirements, long-term water supply, and crime. He also wrote that, "Having grown up in the city of Avalon on Catalina Island, I am attuned with the unique attitudes of permanent residents of a high tourism area."
City Council President Loui Antonucci, President Pro Tem Cari Hermacinski and other Victorville City Council members did not return phone messages left Monday.