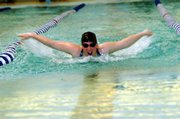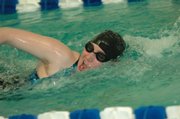 Moffat County Invite
Jan. 3 - Moffat County High School
Team scores
MCHS 135
Central/Palisade 92
Individual results
200-meter medley relay
1. MCHS (Brockman, Knez, Dodd, Penner) 2:36.12
200-meter freestyle
1. Cameo Wilson 3:01.46
200-meter IM
3. Sarah Kirk 3:23.59
4. Megan Knez 3:39.95
50-meter freestyle
1. Emma Lichtenfels 33.33
2. Mary Penner 34.92
3. Kathrine Cork 35.74
6. Tatiana Dulmaine 40.34
1-meter diving
1. Genna Bradley 183.50
100-meter butterfly
1. Cameo Wilson 1:34.61
100-meter freestyle
1. Danielle Brockman 1:17.23
2. Mary Penner 1:17.62
3. Kathrine Cork 1:21.74
7. Tatiana Dulmaine 1:35.32
400-meter freestyle
1. Katherine Dodd 5:54.45
200-meter freestyle relay
1. MCHS (Cork, Kirk, Lichtenfels, Wilson) 2:21.54
100-meter backstroke
2. Danielle Brockman 1:29.35
100-meter breaststroke
2. Megan Knez 1:39.28
3. Katherine Dodd 1:40.40
4. Sarah Kirk 1:46.14
400-meter freestyle relay
1. MCHS (Brockman, Knez, Penner, Dodd) 5:45.48
2. MCHS (Kirk, Dulmaine, Cork, Wilson) 5:48.44
Maybe there's something in the water.
Maybe it's the home crowd, parents in attendance or familiarity with the pool.
Regardless of the reason, the Moffat County High School girls swim team refuses to lose at home.
The Bulldogs defeated Central/Palisade on Saturday at MCHS, earning their first meet victory of the 2008-09 season.
The victory in the MCHS water was the fifth consecutive home meet win for the Bulldogs dating back to the 2002-03 season.
MCHS finished with 135 points and the Wardogs 92.
"It's really exhilarating," MCHS coach Meghan Francone said. "It's a great self-esteem builder."
MCHS was bolstered by Steamboat Springs resident Emma Lichtenfels and dominating performances by the relay teams.
The Bulldogs won nine of the meet's 12 events on their way to a 43-point victory.
Lichtenfels recorded the lowest time of the day in the 50-meter freestyle, finishing in 33.33 seconds, earning eight points for the Bulldogs in her first taste of high school competition.
"It was a lot of fun," Lichtenfels, a Steamboat Springs High School sophomore, said. "I wasn't sure what to expect since it was my first race since knee surgery. It's been a long time."
The Bulldogs earned a more than seven second victory in the meet's first event - the 400-meter medley relay - finishing the four-discipline race in 2:36.12.
Cameo Wilson raced through the 200-meter freestyle, finishing first in 3:01.46, more than 35 seconds faster than the Wardogs second-place finisher.
"I was just trying to stay as strong as I could," Wilson said. "I just try to see where my competition is at and make sure I stay ahead."
Wilson also won the 100-fly, finishing in 1:34.61.
Genna Bradley, a Steamboat residents and MCHS diver, did what she's been doing all year: she won.
Bradley scored 183.50 points in her six dives, many of which were experimental.
The SSHS junior qualified for the state championships in her first meet Dec. 12 in Montrose and used Saturday's event as a trial run for a few new dives.
"Some of my dives I need to change the position, like, to a harder position," Bradley said. Saturday "was the first time that I've ever done a reverse one-and-a-half by myself, since last year at state. And, I'm trying to get a secret weapon dive for state."
She will compete at a diving-only meet Wednesday in Gunnison.
The Bulldogs follow her south Friday.
John Vandelinder can be reached at 875-1793 or jvandelinder@craigdailypress.com