For more
Selections of Sara Sant'Ambrogio's recordings, as well as a biography and tour schedule, are available at http://sarasantam...
If you go
What: Steamboat Springs Orchestra Valentine Soiree, featuring Sara and John Sant'Ambrogio
When: Saturday and Sunday,
Feb. 14 and 15
Where: Steamboat Springs Community Center
Cost: $125 per person
Call: 870-3223; tickets are available online at www.steamboatorch...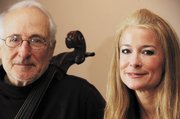 Steamboat Springs — On Tuesday morning, world-class cellist Sara Sant'Ambrogio was finishing the first leg of the first vacation she's taken in 2 1/2 years.
Sant'Ambrogio is a Grammy Award winner who plays cello for the Eroica Trio, has toured internationally with the trio and as a soloist and is the daughter of Steamboat Springs resident and former St. Louis Symphony principal cellist John Sant'Ambrogio.
She has promised herself she will not play a musical instrument during her time off.
This is harder than it sounds. And for someone who has spent decades playing the cello anywhere from two to 10 hours every day, it's close to impossible - especially when asked to pose with the instrument.
"I'm just jonesing," Sara Sant'Ambrogio said, adding that holding a bow wasn't helping her fight the urge to play. "It's like a smack addict having heroin right there on the table."
Finishing up a week of skiing and relaxing with her family at John Sant'Ambrogio's ski-in-ski-out condo, Sara Sant'Ambrogio talked about growing up in a musical family that always expressed an appetite for adventure and learning. In February, she'll come back to town to perform with her father at the Steamboat Springs Orchestra's Valentine Soiree.
On vacation, she took advantage of the rare chance to relax while on break from traveling the world with her 1715 Matteo Goffriller cello, which rides next to her on planes and accumulates frequent-flyer miles under the name "Mr. Cello Sant'Ambrogio."
'Outliers'
The coffee table in John Sant'Ambrogio's condo is weighted down by stacks of books, including maybe a half-dozen copies of Malcolm Gladwell's "Outliers" - a book that almost every member of the Sant'Ambrogio family gave or received for Christmas.
In the book, Gladwell proposes that to master a sport or any other pursuit, you need 10,000 hours of practice. He also argues that, "People don't rise from nothing. We do owe something to parentage and patronage." To Sara Sant'Ambrogio, those statements ring true.
"There's a certain amount of work that you have to do before you get to a level of command over your instrument or your sport," Sara Sant'Ambrogio said. Ten thousand hours isn't that big of a deal when you think about it, she said, compared to about five years of regular practice. As a woman who has worked her way to the top of the classical music game, she showed interest in Gladwell's theories about successful people.
"I'm really very fortunate - and I probably am one of those outliers, because I was put in a very advantageous position," Sara Sant'Ambrogio said. Taking cello lessons from a principal player in the St. Louis Symphony would be an advantage for any child - it's more of one when that principal player is your father.
But learning to play music with the world's best musicians also requires learning to love the art form - something Sara Sant'Ambrogio said her family did by balancing practice and play.
"I had a family with a really strong work ethic and a really strong play ethic," she said. Studying music was important but so were sports and adventurous family vacations.
"I saw that my father worked very hard, practiced very hard and was always thinking how to get better, get better, get better. But he also skied and played basketball with me," she said.
'Yeah, you can do it'
When John and Sara Sant'Ambrogio talk about their family vacations, there always seems to be an element of danger.
"The first time she saw a bear, she ran to the bear," John Sant'Ambrogio said. There was also the time the two went scuba diving in Puerto Rico, to find that they couldn't get through a narrow underwater pass on the way back.
So they crawled over the top of a reef covered in razor-sharp crags - which was easier for a 10-year-old, 75-pound Sara than it was for her father, who is not a slight man.
"He looked like a bear had attacked him," Sara Sant'Ambrogio said, describing the end of the trek. "But to me, that's great parenting. He gave me the chance to express myself and challenge myself, but when I showed fear, (he helped me)."
The spirit of guarded adventure gave Sara and her siblings a feeling they could do anything.
It's a lesson she said she has tried to pass on to her 4-year-old son, and it's one that likely has had something to do with the success of countless sold-out concerts worldwide, appearances with the world's best orchestras and a set of critically acclaimed recordings.
"My dad wanted to do really fun, exciting, adventurous stuff," Sara Sant'Ambrogio said. "I would look at him and say, 'Do you think I can do it?' And he'd say, 'Yeah, you can do it.'"
- To reach Margaret Hair, call 871-4204 or e-mail mhair@steamboatpilot.com.