Tom Ross
Tom Ross' column appears in Steamboat Today. Contact him at 970-871-4205 or tross@SteamboatToday.com.
Find more columns by Tom here.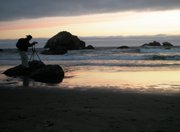 If you go
What: Local photographer Dave Liberman signs copies of "The Flat Tops and Beyond, Volume I."
When: 6 to 8 p.m. Wednesday and 5 to 8 p.m. Feb. 6
Where: Epilogue Book Co. on Wednesday, Off the Beaten Path Bookstore on Feb. 6
If you are struggling to come up with a worthy but attainable New Year's resolution this weekend, relax. I've got one for you - no extra charge.
You won't have to give up dessert, and you won't have to break a sweat. All you have to do is self-publish your first coffee table book.
It will be easy. If you don't believe me, just ask Dave Liberman. I did, and since our chat, I've resolved to publish two hardcover books in 2009. Make that three.
Liberman is a Steamboat Springs chiropractor and acupuncturist who has had a lifelong habit of willing himself to do things nobody thought he could accomplish. That's how he became a professional mogul skier and a touring rock drummer.
Liberman's latest conquest is the world of nature photography. He didn't purchase his first serious digital SLR until 2007. Less than two years later, he has published his first book, "The Flat Tops and Beyond, Volume I," through a Web-based printing service.
Intent on honing his craft, by 2008, Liberman was spending four days every week hiking into the wilderness in an attempt to improve on the works of the famous photographers he has emulated.
"My dog would stick its nose inside the tent at 4 a.m. I'd get up and do yoga, then shoot from 5 to 11 a.m., then take a nap and shoot again from 4 to 9 p.m."
He admits he was confronted with a steep learning curve, but when a single frame from among 500 exposures came out a winner, he felt the rush.
Things really began to take off when he began experimenting with Web printing services that allowed him to create a single book at a time and evaluate the results.
"At first, I just thought I'd use these books to have a photo album for myself," Liberman said. "Then, I thought they'd make nice gifts for my patients. I love seeing the expressions on their faces when they look at my photographs."
Liberman is convinced that the vivid colors of his nature images can have a therapeutic effect on many of his patients. He also found, to his surprise, that people wanted to purchase copies of the books.
He sold the first 30 copies of the 80-page book for $65 each. Now, offering them through Epilogue Book Co., Off the Beaten Path Bookstore and Ski Haus in Steamboat, he's been able to reduce the price to $53.
What fascinates me most about Liberman is his foray into self-publishing through Web-based services that allow photographers, poets, educators and business people - essentially everyone - to create hardcover books one at a time.
Liberman crops the photos to his liking and then uploads folders of images to a service called mypublisher.com, where they are plugged into a template. It's that simple; you can do it, too.
Expect to pay from $30 to $90 for an 8-inch-by-10-inch landscape format (horizontal) and have it completed and returned to your door within seven to 10 days.
The beauty of this egalitarian approach to book publishing is that the cost of entry has been reduced dramatically from five figures to $50. You can have a single book printed and, if you like it, order a dozen or four dozen more at a slightly reduced price.
If you put your mind to it, you'll come up with unlimited applications for Web-based book publishing. You don't have to be an accomplished nature photographer such as Liberman to produce a book of a special trip or a backcountry adventure.
You can get a great feel for the process at Blurb.com, which features modest prices and has online galleries of staff favorites. It will even offer your books for sale.
David Liberman has found a little slice of immortality with his first self-published book and already is working on the second.
You could do the same. You could do it tomorrow.
- To reach Tom Ross, call 871-4205
or e-mail tross@steamboatpilot.com