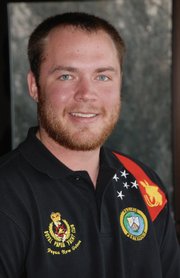 Steamboat Springs — Lieutenant Junior Grade James "Jamie" McKelvie collected his first paycheck from the Navy while still a junior in the engineering school at Colorado State University. Then, he spent the first three years of his enlistment in Hawaii without ever shipping out to sea.
On his days off, he even became a certified scuba diver.
But at the office, he was given responsibility for 20 construction projects with an aggregate value of $25 million.
"I was managing all the Navy construction projects at Pearl Harbor, and I was right out of college with zero experience," McKelvie said.
McKelvie, who graduated from Steamboat Springs High School in 2001, now is ready to embark on the next chapter in his Navy career.
Next week, he'll end a holiday visit with family in Steamboat and leave for Port Hueneme, Calif., north of Los Angeles, to begin adapting to a new role as a platoon commander with First Platoon, Bravo Company Naval Mobile Construction Battalion 3.
McKelvie is going to become an officer in the Seabees, the name for the Naval Construction Force.
Seabees pride themselves on being able to support combat operations with a variety of construction projects from landing strips to base facilities, and they are prepared to fight when called upon.
McKelvie expects his platoon to begin an 18-month deployment in August, but it's far too soon to know where they are going.
Campus commitment
The notion of joining the Navy first occurred to McKelvie while he still was a freshman at CSU. A recruiter visited the engineering school and described a special program that allowed top students to draw a Navy paycheck while still in school, in exchange for a four-year commitment to the service.
By the time he was a junior in college, McKelvie was ready to take his oath and commit to joining the Navy's Civil Engineer Corps upon graduating with a degree in civil engineering.
In addition to the construction projects he oversaw at Pearl Harbor as an ensign during his first three years in the Navy, McKelvie had the opportunity to go on a special humanitarian mission.
He was selected to be the embedded engineer on a Pacific Partnership Mission that involved the floating hospital ship USNS Mercy, along with personnel from the Indian Army and the Australian Royal Army.
McKelvie's role was to fly to Papua, New Guinea, and make preparations for the Naval construction force that was on its way.
When he arrived, McKelvie found out that things are done differently in New Guinea than they are on a Navy base in Hawaii. Not only had his contractor not delivered the heavy timbers that were required, lumber yards in New Guinea did not stock them. He finally located a custom sawmill that would cut them from large logs.
"You know all about Steamboat time. Well Papua, New Guinea, time is 10 times more nonchalant," McKelvie said. "It's not conducive to a high-tempo military operation."
Nevertheless, McKelvie made sure the hundreds of pieces of building materials the construction crews needed were ready and waiting for them.
"We renovated a 400-square foot building that had no electricity and no plumbing," McKelvie said. "We added large water tanks, solar heating, toilets and showers. It was very stressful and difficult to accomplish. But once we did it, it was well worth it, feeling the appreciation of the people and knowing they'll have the use of those facilities for decades to come."
Lt. j.g. McKelvie is on to a new challenge, and it's one he relishes as he decides whether to make a permanent career of the Navy.
"It's going to be a drastic change," McKelvie said. "I'll take on a leadership role. I really wanted to be sure I had this experience - to experience what it is to be a Seabee."