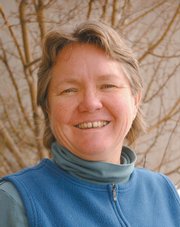 Steamboat Springs — Editor's note: Clark resident Mary Walker works at the Tasaru Girls Rescue Centre in Narok, Kenya. The center was built in 2002 with funding from the United Nations, and it provides a safehouse for Maasai girls who have either escaped or been rescued from female genital mutilation and forced childhood marriage. Walker's updates from Kenya appear periodically in the Steamboat Today. She recently visited the Kenyan capital, Nairobi.
There have been several incidents at the centre recently that highlight the uncertainty, emotional roller coaster, and outright injustice the girls here face daily. As a cultural outsider, it is difficult if not impossible for me to involve myself in any meaningful way. Although the girls often look to me for assistance with their "problems," as they call them, I have to restrict my role and let the system itself take over. It can be excruciatingly painful to stand by while girls suffer emotionally.
Two sisters were brought to the centre three weeks ago by a police officer and representative from the Children's Office. They called the police from their home after being handcuffed to their bed by their mother (a police officer herself). Their mother had called a circumciser to come to the house to cut the two girls. She left her phone in the room, and the girls were able to reach it. The police arrived before the circumciser.
Today, one of the sisters says she wants to go home, be circumcised and married. The other sister does not want to go home. She is concerned that her statement to the police will be thrown out because of the sister's apparent change of heart.
Yesterday, the older sister of a girl at the centre, Nailois, took refuge here after her husband beat her. Maggie lives a couple of kilometres from the centre. She left her 8 and 5-year-old children with a neighbor. After her sister arrived to the centre, Nailois offered to go and get the 8-month-old baby also left at the neighbor's house. With permission to leave the centre from the secretary, Nailois went for the child and to stop at a store to buy diapers.
Today, the husband showed up at the centre looking for Maggie. She asked me what to do. I said that I couldn't tell her what to do. I only asked that if she went to talk to him that she do it outside the gate so that the girls would not be exposed to the situation. Having no place else to go, I knew she would go home. She did. He's beaten her before. He will do it again, surely. I gave her some shillings to put on her cell phone so she can use her phone if needed. Kenya has a "pay as you go" scratch card phone system. You do not pay to receive calls, only to make them. Good thing.
Maggie's sister, Nailois, is entering her third year of high school. Nailois is bright, mature, organized and street smart. She brought herself to the centre four years ago. She makes straight A's in a provincial high school, which is better in quality than a district school. She just read "A Thousand Splendid Suns" in three days. Their father has said the other, younger children in the family will not be allowed to go to school until Nailois agrees to come home and be married off. This is the pressure this girl withstands every day. This is the value of educating her, supporting her to complete high school, go to university and find employment.
Every girl here at the centre deals with "black holes" in their lives. Being cut, being sold off in marriage, choosing your "right to a life" instead of being with your mother - this is serious, serious "black hole" material. There is no psychology, no therapy here. I can't solve their problems. I can't guarantee the black will someday turn gray, even white. But I sure can give it everything I've got to offer them something after they finish high school and leave the centre. As I told one of the girls the other day, 'I love you' are the words, but the feelings are so much more than that.