Past Event
Wednesday, January 14, 2009, 9 p.m.
Cafe Corretto, 685 Marketplace Plaza, Suite C8, Steamboat Springs
Not available
DJ Also Starring's recommended record labels:
1. Equal Vision Records, based in Albany, N.Y. Artist roster includes Portugal. The Man and Fall of Troy.
2. Fool's Gold Records, based in New York. Artist roster includes Kid Cudi and A-Trak.
3. Mad Decent Records, based in Philadelphia. Artist roster includes Diplo and Bonde do Role.
Past Event
Monday, January 12, 2009, 10 p.m.
Tap House Sports Grill, 729 Lincoln Ave., Steamboat Springs
Not available
Past Event
Friday, January 9, 2009, 10 p.m.
Old Town Pub & Restaurant, 600 Lincoln Ave., Steamboat Springs
Not available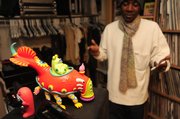 Keeping a weekly DJ set fresh can be tough - it needs to keep the crowd happy, so it needs to include plenty of songs people know and recognize. But it also needs to change if the DJ playing that set is going to keep himself from going crazy.
That's the challenge DJ Also Starring, or Brian Alpart, faces every Friday night at the Old Town Pub. Alpart takes a break this week from his regular Friday gig to go on a one-week tour of Colorado ski towns, playing in Silverton, Durango and Vail before he returns to Steamboat Springs.
When he gets back, ski season brings expanded opportunities for live music around town. Alpart will team up with local emcees Ocelot and Kat-N-Tha-Hat for a hip-hop project dubbed A.O.K. The group debuts on Wednesday, Jan. 14 at Amante, and will play a different venue on the second Wednesday of each month through the season.
"It's just local people doing hip-hop and wanting to bring it all together," Alpart said of the project. He'll also join DJs Ricky Prime and Pretty Ninja for what the trio hopes will become a regular Monday night set at The Tap House, and is trying to get a recurring reggae night together at The Boathouse Pub.
Alpart sat down with 4 Points to talk about his upcoming projects, his Old Town Pub mash-up set and what he's been listening to lately.
4 POINTS: How do you balance playing what people want to hear and adding new material in your Friday night set?
BRIAN ALPART: I've been trying to change it up. : I guess it could be considered complacent (to keep some of the songs the same) - but I think that's kind of a lame term. It's more that you just find what the crowd likes.
4 POINTS: Have you heard anything you like lately that you want to add to the set?
BA: A lot of Brazilian funk, I've been getting into lately. : What I play out is a lot different from what I listen to. : I find myself listening to a lot of soul, jazz and reggae. But what's good for my ears is a lot different from what's good for other people's ears, because I'm looking for more than just their ears. I'm looking for their bodies and their souls.
4 POINTS: Did it take you a while to put together a regular performing schedule in Steamboat, to a point where you can do this full-time?
BA: It doesn't just happen overnight. It takes a lot of practice and playing out and building a fan base.
4 POINTS: Does it help to keep a lot of different styles going, with theme nights and other events?
BA: People don't want to come out and hear the same stuff over and over. After doing my mash-up I do on Fridays, I don't want to do that over and over. : I think a theme night helps keep it more focused.
4 POINTS: Where do you buy your records?
BA: Every town I go to, I'll go to the thrift stores and record stores. : When I get a record, I read all the liner notes and see who produced it and then something else (will come out of that).
4 POINTS: What have you been listening to lately?
BA: There's such a giant world of music out there, there's a lot of stuff I've been getting into.