Past Event
Friday, January 2, 2009, 5 p.m. to 8 p.m.
Wild Horse Gallery, 2200 Village Inn Court, Steamboat Springs
Not available / Free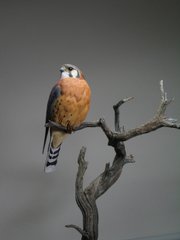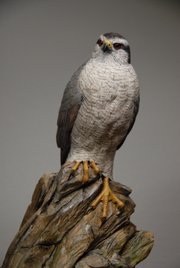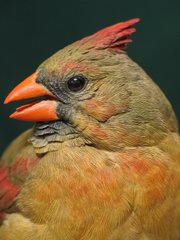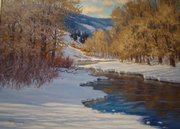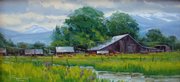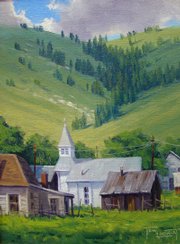 Don Van Horn's carvings of birds can be eerily realistic.
"Everything I make, I make as exact as possible," Van Horn said, explaining the attention to detail and hours of work that go into each of his carvings, which are made primarily with wood and are accented with brass and copper.
"The ultimate compliment that I get all the time is that people think they look like stuffed birds," Van Horn said. A show featuring his work, along with landscape oil paintings by fellow Colorado artist Tom Lockhart, opens with a reception today at the Wild Horse Gallery's downtown location.
Van Horn has specialized in bird sculpting for about 20 years and has been making shapes out of wood and other materials for most of his life. Each piece - which can include a hand-sculpted base, hummingbird or other small flyer, and a columbine or other Western flower - takes a few days to complete, and requires hours of field observation.
"They're very painstakingly carved. It takes about two days just to paint one of the hummingbirds," Van Horn said. He keeps about 75,000 photos of birds and plants on his computer for research. The effort has won him four "Best of Show" awards at the World Wildfowl Carving Championships, held annually in Maryland.
Shirley Stocks, owner of Wild Horse Gallery, said the patience shown in Van Horn's and Lockhart's work makes the artists stand out. Lockhart, a Southern Colorado artist whose work was featured in a one-man show at Wild Horse's mountain location in January 2008, offers several scenes from the Elk River area for this month's show.
"I'm always looking for something that I can set up and paint a field study from," Lockhart said. He did the scenes of the Elk River while in Steamboat for his show last January. "In the case of the winter scenes, I was looking for a spot that I could get off the road and set up without falling in the water."
Many of the scenes in the Wild Horse show focus on water, a subject Lockhart said is "vital to our sustainability here." The paintings depict the way light plays off a river and its environmental surroundings.
"The feel of the water and the reflections in the water, that's what's important to me," Lockhart said.
Lockhart and Van Horn will be featured at Wild Horse Gallery's downtown location through the end of the month. The gallery's mountain location at Sheraton Steamboat Resort features work by several of the gallery's member artists.