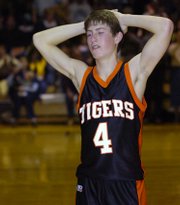 Game statistics
Plateau Valley 55, Hayden 52
Hayden 12-20-11-9 - 52
Plateau Valley 11-14-16-14 - 55
Hayden - Medvesk 5 4-5 14, J.Engle 0 1-2 1, Zehner 3 0-1 8, Z.Engle 5 0-0 10, Valdez 1 0-0 2, Smartt 4 2-2 10, Williams 1 0-0 2, Barnes 2 1-2 5. Totals 21 8-12 52.
Plateau Valley - DJ Schuman 9 2-4 20, Grundy 5 1-3 11, Jawkins 2 0-0 4, Brunton 2 0-0 4, Hoard 2 0-0 4, Coon 4 0-3 10, Da. Schuman 1 0-5 2. Totals 25 3-15 55.
3-pointers: Hayden (2) - Zehner. Plateau Valley (2) - Coon.
Hayden boys basketball, 2008-09
Meeker — It was far from the ideal shot for Hayden senior Billy Zehner. It was a desperate one, actually - a one-handed lob that was the best he could manage with defenders draped over him and the clock about to expire on Friday at the district tournament in Meeker.
For a second - maybe two - it seemed good enough. The ball seemed to fall all the way into net before catching, crawling back out and rolling around the rim. It then nearly fell in again, as the final buzzer sounded, but again zipped all the way around the rim.
The ball finally rolled out, denying Hayden a reprieve from an ugly second half and the chance at an upset.
The Tigers led through most of Friday's game against Plateau Valley High School, but lost, 55-52, to fall to an 11:30 a.m. third-place game today in Meeker.
"We played with good intensity and aggressiveness," Hayden coach Mike Luppes. "When we play like that, we can play with anyone around. I'm just real disappointed for the kids that we didn't pull this one out."
Plateau Valley blasted Hayden earlier this season, building a massive first half lead and coasting for an easy double-digit victory.
It was Hayden that jumped to the early lead Friday. The Tigers led by as many as 10 points in the first half and had the advantage until the midway point of the fourth quarter.
Hayden's play dropped off as the game went on, the early fast break points giving way to ill-advised 3-point attempts and a spat of turnovers.
The Cowboys refused to slam the door, though, missing six consecutive free throws and eight of 10 in the waning minutes.
Zehner pulled the Tigers back within one with a 3-point shot in the final minute, then - after Plateau Valley put in an offensive rebound for a three-point lead - nearly tied the game with his one-handed prayer.
"A turnover here, a forced pass there - that was the difference," Luppes said.
Hayden's powerful first half was a dramatic turnaround for its last encounter of the season with Plateau Valley.
The Tigers pushed the pace throughout the first two quarters and decimated the Cowboys' full court press.
"We were just pushing the ball," sophomore Graig Medvesk said. "They beat us by 20 the first time, so we stepped it up and played better this time. We came together and started playing together."
Medvesk scored, was fouled and made the free throw to open the second quarter. Jeremy Engle scored twice, and Medvesk sank a 15-foot jumper. When Rene Valdez put back an offensive rebound moments later, Hayden led, 23-13.
Plateau Valley played better, but the Tigers didn't allow the gap to close much. Medvesk scored 10 of his team-high 14 points in the quarter and scored again just before halftime to open the lead back up to nine.
"We did very well against their press," Luppes noted. "It's too bad they pulled out of it in the second half."
The loss drops Hayden to a game today against Rangely, who lost Friday night to top-seeded Meeker.
The game will mark the fourth time the teams have clashed this season. Rangely won twice while Hayden won once.