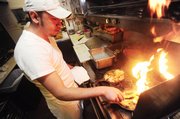 Steamboat Springs — Rex Brice has noticed his Steamboat Restaurant Group customers ordering one cocktail instead of two with dinner.
Kristi Brown has noticed her Cantina diners splitting entrees more often or ordering an appetizer as a meal.
Mike Lang has noticed an immense popularity for a deal at Harwigs/L'Apogee that offers smaller, cheaper plates of food all night, every night.
As Steamboat Springs sales tax revenues continue to slide - showing an 8.6 percent decline in December 2008 compared to the same month in 2007 - local restaurant owners are bracing for a decline in business.
"Since the beginning of January, we're down a little less than 6 percent, so we're doing pretty well," said Brown, owner of Cantina restaurant on Lincoln Avenue. "It's considerably less than the restaurant sector has been down in sales tax revenue."
Brown attributes the relatively small decline in business to Cantina's casual dining prices, and she is optimistic for stronger sales in March, traditionally a busy month for Steamboat Ski Area.
Brice, who owns Rex's American Grill & Bar, Mazzola's and Big House Burgers, doesn't see things looking up quite so much.
"I am not anticipating a strong March," Brice said. He expects sales numbers to be higher in March than they were in January, but he anticipates a bigger percentage decline between March 2008 and March 2009.
"We're not budgeting to have the strong sales that we've had in the past, that's for sure," he said. "We're not going to break any records this year."
Casual dining doing well
The average dinner check total is down, Brice said, but casual dining options in his three restaurants are up. Catering orders have taken a big hit, as have business lunches.
"People are going out to lunch, but last year, what we saw was a lot of people coming in with plans - developers and Realtors, that type of people going into lunch," Brice said. Those expense account parties have slipped this winter, he said.
With a Harwigs entree menu that averages about $35 for a main dish, restaurant owner Lang said he had budgeted for a 20 percent decrease in sales from 2008. The restaurant's sales numbers have surprised him - in a good way.
"It is what it is. It's the season that everyone was dreading, but it isn't as bad as everybody made it out to be," Lang said. The restaurant decided to offer a small plate menu - usually reserved for the summer - every night, "as the economy was going south," Lang said. Other than that, not too much has changed from what Harwigs has seen in any year that wasn't booming, he said.
"To compare to 2006 and 2007 is silly - that's just shooting yourself in your foot. But as far as 2004 and 2005 goes, we're right in there," Lang said.
Cutting labor, supply costs
Across the Steamboat Springs restaurant industry, owners and managers are cutting time for hourly employees and keeping a close eye on utility and supply costs. Lang said he has been more careful with his hourly wages and what his restaurant purchases.
"Everyone has to take into their account that your bottom line is the most important thing, and if you're on salary you're going to be working harder than you have been," Lang said. Cantina also has reduced staff, but does not plan to make any major pricing or operational changes, Brown said.
"The biggest thing is being proactive and making the adjustments now," Brice said. For the Steamboat Restaurant Group, those adjustments could include cutting hourly labor and looking at expenses such as water usage and multiple phone lines, he said.
"It's a heck of a lot easier to save $100 during March than it is to save $100 during April, so if we can make changes in March as opposed to making them in April, I think that will make it a lot easier for us," he said.
Through those cuts, Brice said, he has made sure to keep his staff up-to-date on the restaurants' financial situation.
"If sales are down, we're letting them know. If we think we're going to have to lay someone off, we're going to give them as much notice as we can," he said. So far, Brice has managed to keep full-time employees on the schedule and has not had to lay anyone off, he said.
"Typically, we have some extra hours for people, and we don't necessarily have that," Brice said. "The people who work for us, instead of getting a second job, maybe they're working full-time for us because the second job doesn't exist."
Hoping for snowfall
When it comes to predicting business flow for March, Brice, Brown and Lang are wary to give numbers. Lang has seen more last-minute guests and bookings than in past winters and is hoping the trend continues.
"All the numbers that we're looking at going into this season, the bookings were all off, and that was something that was dictating a slower season as we're looking forward," Lang said. "But everyone is making their booking short-term."
For Lang and Brown, those last-minute bookings depend on one thing: snow.
"I have been in seasonal food businesses for a long time, and one thing I have noticed is that it really depends on the weather. And for us in Steamboat, I think a lot really depends on snowfall," Brown said.
"I'm sure the economy is going to have an effect, but I've noticed that when the weather's great, people come out. I think if we have great snow and great skiing, business is going to be fine," she said.