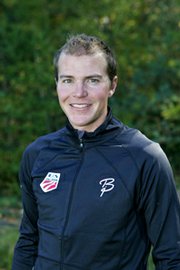 Steamboat Springs — Oh, how sweet redemption can be.
U.S. Ski Team member Bill Demong wrapped up the 2009 Nordic FIS World Championships on Saturday by slipping past Germany's Bjoern Kircheisen in a thrilling race to the finish of the individual Gundersen competition. It was the final Nordic combined event of the championships, which are being held in Liberec, Czech Republic.
Demong said racing neck-and-neck with Kircheisen spurred both athletes.
"It's a little bit like cycling, even though it's a short race - drafting definitely is a factor," he said. "Bjorn is also a dangerous competitior - he's a good sprinter. : We skied almost the entire race together until the last 500 or so meters, where we kind of fought it out. I was able to pull away in the last couple hundred meters."
Demong's gold medal performance comes just two days after he was disqualified in the team event for not having his bib when it was his turn to jump. Demong said the bib slipped down his suit into the back of a pant leg, a spot he called "almost imperceptible," despite frantic searches by Demong and teammate Johnny Spillane at the top of the hill.
"That was all my fault," Demong said of the mishap. "I've never had that happen before - it was an unfortunate incident. (The bib) slipped down through my jumpsuit. It actually worked itself all the way down so it was behind my boot - I've probably put it on a thousand times and never had that happen."
Demong credited his teammates with immediately helping him to get past the incident and move on to the next challenge.
"My teammates were the ones who really helped me get over it - it's easy to beat yourself up over something like that, especially on a team event day. Todd (Lodwick) and Johnny were just like : 'Forget about it,' and that was like 10 minutes after the whole thing went down," Demong said. "It showed so much team spirit. It's almost a harder test for a team than trying to get a medal, to overcome that kind of disappointment."
His coach didn't notice a change in Demong's attitude Saturday.
"I don't think Bill was any more motivated to win this race than he normally would be," U.S. Ski Team coach Dave Jarrett said from Liberec. "But it's sweet redemption."
But Demong said Thursday's mishap was, in fact, still in his mind during the final event of the championships.
"It wasn't like I was skiing angry, but for sure, especially reflecting on the event : how Todd, Johnny and Eric kind of took it in stride : I kind of owed it to them to just go for it," Demong said. "I think that was, for sure, motivating."
Two-man race
Demong was eighth after the jumping portion of the event, about 53 seconds behind the leader. But he teamed up with Kircheisen in the cross-country race to eclipse the deficit and move past the jumping-round leaders.
By the time Demong and Kircheisen began the fourth and final lap of the 10-kilometer cross-county race, it was clear it would be a two-man battle for the gold.
"I didn't get to see him ski into the finish because I was out on the course," Jarrett said. "But from what I heard, I think he had a pretty good lead as he entered the stadium."
Jarrett said the jumping round was plagued with unpredictable winds that forced the competition to be stopped and then restarted. Demong was able to take advantage of favorable winds when it was his turn to jump, but Todd Lodwick and Spillane were not so lucky.
Lodwick, who won a gold medal in the other individual Gundersen event and the mass start event, was 24th after the jumping, but moved up to 10th in the final results. Spillane was 41st after jumping and skied to 19th after the cross-county race. France's Jason Lamy Champuis won the jumping portion and then held on for third place in the final standings. The event marked the end of the Nordic World Championships for the Nordic combined skiers.
It was an unprecedented showing for the American team, which collected three gold medals and a bronze during four events.
"Sure it's surprising," Jarrett said. "But it wasn't totally unexpected. We always knew these guys were capable of doing this, and now they have proven that it can be done."
Jarrett is hoping the U.S. Team will continue to build off the finishes, and he said it bodes well for the team as it moves towards the 2010 Winter Olympic Games in Vancouver, British Columbia.
"They are each their own events," Jarrett said. "But our guys will go there knowing that anything is possible."