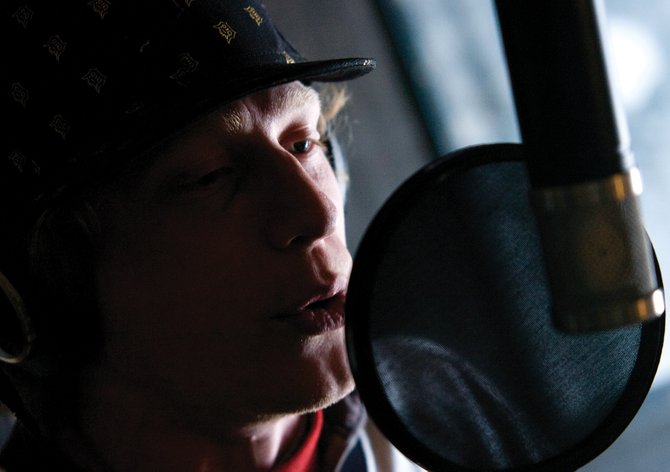 Underground hip-hop tour comes to The Tap House
Friday, February 27, 2009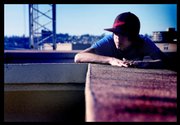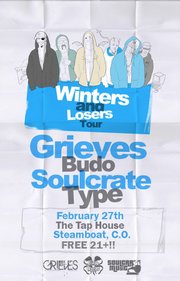 Past Event
Friday, February 27, 2009, 10 p.m.
Tap House Sports Grill, 729 Lincoln Ave., Steamboat Springs
Not available / Free
Who's on the tour
¤ Grieves: Based in San Diego, Grieves has put out two albums of fast-paced rhymes propped up by neo-soul horns. He returns to Steamboat for a second winter after performing at Wired Lounge in January 2008. His second record, "88 Keys & Counting," came out in November. Listen to songs and watch music videos featuring the hip-hop artist at www.myspace.com/g...>
¤ Soulcrate Music: A hip-hop trio from South Dakota, Soulcrate Music doesn't have any trouble writing clever rhymes over catchy lines. Listen to the group at www.myspace.com/s...>
¤ Type: Not much is off limits for Seattle-based MC Type - he'll make fun of anything and everything in his rhymes, always keeping a bounce in the production and the attitude. Listen at www.myspace.com/t...>
¤ Budo: DJ Budo backs Grieves during his set. Based in Seattle, Budo has drawn attention on the independent hip-hop scene in the past couple of years for his solidly rooted beats, with some stretched soul samples and original instruments mixed in. Listen to some of his work at www.myspace.com/b...>
Andrew Lindsley - or when he's MCing, Ocelot - has known his Colorado Springs disc jockey for more than 10 years.
"Eleven years ago, me and this guy were in the Army together, and we've reunited since I've been back in Colorado," Lindsley said. Today, the two will play publicly together for the first time as one of five acts on the Steamboat Springs leg of the Winters and Losers hip-hop tour.
"It's just really amazing how that worked out," Lindsley said about working with DJ Curly OnE. "This is going to be our first public show, and it's going to be a flawless performance, of course. Usually it's not flawless for us, we just kind of make it look like it is."
Grieves, a San Diego-based rapper who headlined a show in Steamboat Springs last winter, tops the Winters and Losers bill.
The free show starts at 10 p.m. today at The Tap House. Joining Grieves are his DJ - the Seattle-based Budo - label mate Soulcrate Music and frequent collaborator Type.
Today's show is the only free one on the tour, and Lindsley said to expect high-energy performances and skillfully produced live beats from the four featured acts.
"I'm also hoping we get the best show, considering nobody's voice is going to be lost and nobody's going to be tired," he said.
The show is a rare chance to see touring, live hip-hop acts in Steamboat, Lindsley said - something he hopes to see more of with the opening of the Ghost Ranch Saloon this spring and some motivation for local talents to step up and perform.
"There's not a big opportunity to catch hip-hop, but hopefully there will be in the future," he said, encouraging any local who's spent time producing beats or writing lines to get out and perform them.
"It isn't something that you can catch all the time in Steamboat, but it's always around us."