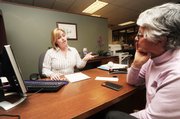 Are you at risk?
If you have worked for the Steamboat Springs School District in the past 10 years, your name and Social Security number likely were on a laptop stolen Tuesday night. To check whether you were included, call the district offices at 871-3199.
Steamboat Springs — Steamboat Springs educators are visiting local banks in droves after the revelation that 1,300 Social Security numbers were stolen from Steamboat Springs School District offices in a break-in Tuesday night.
Local bank officials said past and present employees of the district began calling and visiting bank offices Wednesday afternoon, when news broke that a laptop was stolen from the financial offices at the George P. Sauer Human Services Center on Seventh Street. The computer contains a spreadsheet with names and Social Security numbers for all employees for the district in the past 10 years. Although it is unclear whether the thieves were able to access the data, because the computer is password-protected, district officials are recommending employees stay alert.
Anne Muhme, assistant to the superintendent, said the district is recommending employees contact one of the three credit monitoring agencies and sign up for a 90-day fraud alert on the account.
District Finance Director Dale Mellor, the owner of the stolen laptop, said district officials also are discussing the possibility of paying for 30 days of credit monitoring for each of the individuals on the list.
"We don't know what it costs, we don't know what it entails : (and) we don't know if that's financially feasible," he said.
Mellor said no bank information was on the stolen laptop. Employee direct deposit and bank information is stored on the district network. Muhme and Superintendent Shalee Cunningham said there is no indication the thieves would be able to access that information.
"They're monitoring it, and it's not going to happen," Muhme said.
Because of that, Mellor said, there is no reason for employees to change their account information.
"If (the thieves) can use the Social Security number to get the old account information, they can use it to get the new one," he said.
Banks ready
Even so, banks are offering to provide different types of protection and peace of mind.
Todd Pederson, senior vice president at Yampa Valley Bank, said his bank is offering to cover the cost of closing and re-opening any accounts, including the cost of ordering new checks.
"We're essentially going to discuss that with the customer and determine if that's the best course of action. It is the most secure course of action if you feel that information has been compromised," he said.
He said the new account numbers would not be necessary if only the Social Security numbers were compromised, as believed, but it also provides a level of mental security for customers.
"If that makes them comfortable, we're going to be supporting them in any way necessary," he said.
Vectra Bank is offering similar advice to its customers, with customers paying the cost of new checks but no additional fees, while Millennium Bank is preparing a letter to send to customers and is directing customers to a Web site with more information about preventing identity theft.
"For the most part, people seem to be reassured and calmed down once we kind of walk them through," said Millennium's Operations Manager Mary Simmins.
Jill Leary, community bank president for Wells Fargo, said her bank is not yet recommending that customers open new accounts.
"There's no point to doing that," she said. "We are putting a general alert on their account for possible fraud : and we're talking to all of them about online banking," she said.
The general alert will cause tellers to re-check and confirm suspicious spending patterns, she said, and the online banking option will allow customers to see their daily transactions to ensure nothing unauthorized is charged.
Leary said Wells Fargo also is suggesting an ID theft protection package for $13 per month that includes quarterly credit reports.
Teachers react
Steamboat Springs School Board Vice President Denise Connelly, who is also a former teacher, said she had two reactions when she heard about the security breach.
"At first, I was concerned about everyone else. I was in my board member role, and I didn't think my information was in there," she said. "When I found out : I talked to some other people, and I guess what I'm gong to do is talk to the bank and let them know about it."
Asked whether she had heard of any prior data breaches in the district, Connelly said, "No, but I think these are tough economic times, and I think we're going to see a lot of things we haven't seen before."