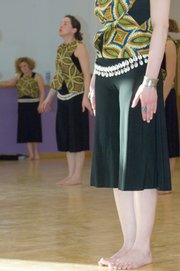 Past Event
Thursday, March 5, 2009, 7 p.m.
Steamboat Springs High School, 45 Maple St., Steamboat Springs
Not available / $12 - $20
Photo Gallery
Dance Theatre rehearsal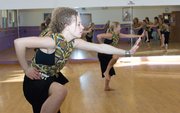 The community aspect of a Steamboat Dance Theatre concert always is a huge part of the production: Dancers and choreographers volunteer their time from the September auditions to the March concert, with about 80 dancers performing 18 locally choreographed pieces.
Co-producer Debbie Curd said for this year's performance, the dance company will play up the depth of its local talent with a display in the lobby of the Steamboat Springs High School auditorium. The Dance Theatre's 37th annual concert will be held there at 7 p.m. Thursday and at 7 p.m. March 6 and 7.
"Every year it's different, and every year the skill and talent just seems to surprise me and improve," Curd said, adding that audience members are sometimes shocked to see the skill level of people they know from everyday life.
"Usually it's your neighbor or your Realtor or someone you see in the store, or it's someone who does your hair or your waitress - I think that's what stands out every year, is the amount of talent that comes together in such a small community," Curd said.
The Dance Theatre held open auditions in September, inviting choreographers to cast pieces that had been discussed and approved in earlier meetings. Everyone who auditioned and could commit to rehearsing once a week for 16 to 18 weeks has a spot in the show, Curd said.
Dancers will join a production crew for technical rehearsals at the high school this weekend, matching dance steps with lighting design, stage time and other technical aspects.
The concert's lobby display typically includes photos of dancers working on pieces from October on; additional pictures will augment that display at Thursday's concert.
"We're also adding to the lobby display pictures of dancers in their daily lives, to show the other side of the dancer - the everyday person you probably pass in the grocery store all the time," Curd said.
Curd is joined on the concert's leadership team by co-producer Gina Toothaker and artistic director Heidi Meshurel-Jolly. All three are cast in pieces on the concert program.
Tootahker said there was a concerted effort company-wide to get sponsors for this year's show; the Dance Theatre ended up with more sponsorship than it's ever had, she said. That came from volunteer efforts on the part of dancers, choreographers and the Dance Theatre board. Choreographers also take on one of about 12 jobs, including radio publicity, a fundraising bake sale and newspaper publicity, Toothaker said.
"It's a really great thing that it's all-volunteer," she said. "There are just a lot of people who love dance here."