Photo Gallery
Steamboat Springs boys basketball against Skyline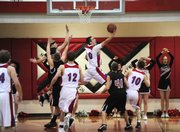 Steamboat Springs boys basketball, 2008-09
Dec. 5, Steamboat 48, Roaring Fork 34 at Roaring Fork Tournament; (1-0)
Dec. 6, Steamboat 53, Basalt 36 at Roaring Fork Tournament; (2-0)
Dec. 11, Castle View 57, Steamboat 38 at Steamboat ShootOut tournament; (2-1)
Dec. 12, Steamboat 70, Summit 41 at Steamboat ShootOut tournament; (3-1)
Dec. 13, Green River, Wyo., 68, Steamboat 41 at Steamboat ShootOut tournament; (3-2)
Dec. 19, Evanston, Wyo. 49, Steamboat 37 at Flaming Gorge Classic basketball tournament; (3-4)
Dec. 20, Cheyenne East 41, Steamboat 38 at Flaming Gorge Classic basketball tournament; (3-5)
Jan. 9, Steamboat 46, Battle Mountain 23; (4-5)
Jan. 10, Steamboat 55, Eagle Valley 30; (5-5)
Jan. 16, Steamboat 78, Palisade 46; (6-5)
Jan. 17, Steamboat 66, Delta 37; (7-5)
Jan. 23, Steamboat 65, Rifle 38; (8-5)
Jan. 24, Steamboat 47, Glenwood Springs 45; (9-5)
Jan. 27, Steamboat 44, Moffat County 32;(10-5)
Jan. 30, Steamboat 63, Eagle Valley 41;(11-5)
Feb. 6, Steamboat 50, Palisade 44;(12-5)
Feb. 7, Steamboat 54, Delta 43;(13-5)
Feb. 13, Steamboat 54, Rifle 45;(14-5)
Feb. 14, Glenwood Springs 61, Steamboat 51;(14-6)
Feb. 17 vs. Moffat County, 7:30 p.m.
Feb. 20 at Battle Mountain, 7:30 p.m.
Feb. 25 state playoffs begin
Any questions about the Steamboat Springs High School boys basketball team's confidence after two late-season losses were answered in the first nine minutes of Wednesday's first round Class 4A playoff game against Skyline.
The Sailors, playing as intense defense as they have all year, imposed their will on both ends of the court in a 61-41 win in which the Falcons scored 22 of their points in an inconsequential fourth quarter.
"We were undefeated and thought we were untouchable," Steamboat senior Nelson Brassell said about the team's two late league losses to Glenwood Springs and Moffat County. "I think we needed to lose those games to really find what our team was about. That's Sailors basketball and defense. If we play defense, we're always in the game."
Against the perimeter-oriented Falcons, the Sailors put the game out of reach before most of the crowd at Kelly Meek Gymnasium got comfortable.
Steamboat held Skyline scoreless for the first 9:15 of the game, limiting the Falcons to 0-of-10 shooting from the field. The Sailors also forced 11 first-half turnovers.
The Sailors had a 20-3 lead by the 4:27 mark of the second quarter.
"You have to make perimeter shots early to loosen (the zone) up, and we didn't," Skyline coach Brandon Knudsen said. "They are very disciplined, they run more stuff, they take the ball to the hole, and they're very strong."
Steamboat also keyed in on Skyline guard Blaine Robinson. Robinson came in averaging more than 20 points per game. On Wednesday, Robinson had seven points, five of which came in the final quarter. Things were so tough for Robinson that a three-quarters-court shot he hit at the end of the third quarter was waved off after two Steamboat defenders forced him into a travel.
"Coming out with that kind of defensive intensity put them back on their heels," Steamboat coach Luke DeWolfe said. "They couldn't seem to recover from that. That's what we talked about all week - establishing that intensity from the first minute."
Steamboat extended its lead to 43-14 late in the third quarter and went into the final frame with a 46-19 lead.
By that point, everyone on the Steamboat bench had entered the game, with eight players scoring. Brassell's 18 points led the Sailors. Alex Wood added 11 points, Charles Wood scored nine points, Jack Spady scored eight, and Isiah Forsyth chipped in seven.
Skyline was led by 11 points from Kevin Coats off the bench and 10 points from Jake Garritson.
Now, the Sailors turn their attention to another Northern League team. Sixth-seeded Steamboat plays at No. 3 Longmont on Saturday. A game time hasn't been determined.
The Trojans come in at 18-5 overall and are ranked No. 10 in the Rocky Mountain News. Longmont beat Skyline, 68-50, in late January.