If you go
What: Steamboat Springs Planning Commission meeting
When: 6 p.m. Thursday
Where: Centennial Hall, 124 10th St.
Call: City offices at 879-2060 for more information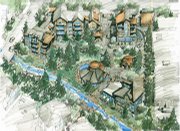 Steamboat Springs — A Pine Grove Road development proposal touches on a number of Steamboat Springs' hot-button issues, including affordable housing and historic preservation.
Kim and Peter Kreissig are proposing 61 condos and seven commercial spaces on 2.79 acres directly behind the Safeway grocery store on Pine Grove Road. The project, known as Rollingstone, would total more than 100,000 square feet. The site also borders Fish Creek and Rollingstone Drive.
Like any development proposal making its way through the city Planning Department these days, the project finds itself in an awkward position in relation to the city's community housing ordinance, which the Steamboat Springs City Council is in the process of overhauling.
Under the current scheme, the proposed project generates a requirement of 11.62 affordable housing units. The ordinance requires that nine of those units be built within the project and allows a payment in lieu for the rest. The developers are proposing payment in lieu for the entirety of their affordable housing requirements. The city's planning staff is recommending that the request either be denied because it does not satisfy current requirements, or tabled pending amendments to the community housing ordinance.
"I think it is the only approach that the (Community Development Code) allows us to take," city planner Jonathan Spence said. "It does make it more challenging."
City Council is considering a number of changes to its affordable housing policies, including making payment in lieu a right for inclusionary zoning. Also, if council approves a suspension of linkage next week, Rollingstone's affordable housing requirements will drop by 2.18 units.
Regardless of the requirements, city employees think the project represents an ideal site for affordable housing because of its proximity to the grocery store, other retail and a Steamboat Springs Transit bus stop.
"We think it's an appropriate location," Spence said. "The purpose of inclusionary zoning was just that: to include affordable housing in projects."
Historic structures
Six structures sit on the proposed development site, including a house and detached garage built in 1941.
"They are good examples of Rustic style architecture and therefore most likely eligible to the Routt County Register of Historic Properties," a city staff report states.
The Historic Preservation Advisory Commission recommended denial of the project in a 4-0 vote, thinking the proposed mass and scale of new buildings would not relate well to the existing structures.
Planning staff, however, is recommending approval of the project as a whole but does not support a requested water body setback variance. City codes require the development to stay 50 feet from Fish Creek. Developers requested a reduction in the setback to 30 feet to allow an expansion of the detached garage.
"It's large mass and scale do not conform with our design guidelines," Historic Preservation Planner Alexis Casale said about the proposed addition.
Once again, city employees' recommendation conflicts with that of HPAC, which recommended approval of the setback variance in a 3-1 vote.
The Kreissigs also are requesting a seven-year grace period instead of the standard three years before they must pull a building permit. Spence said the request is being made because of the economy; the developers of the proposed Thunderhead project at the base of Steamboat Ski Area made a similar request to extend their vesting period from three years to five.
"With the Thunderhead one, the City Council seemed somewhat unreceptive to that idea," Spence said about the project that was tabled to April at a meeting last week.
Spence said planning staff is recommending that if an extension is allowed for Rollingstone that it only be for five years rather than seven.
Kim Kreissig did not return a message left on her cell phone Monday. In September 2007, after the Kreissigs acquired the parcel for $5.75 million, she said the couple envisioned creating an arts neighborhood consisting of high-end condominiums combined with low-intensity commercial.
"We want to maintain the feel of the property," Kim Kreissig said at the time. "It's a stirring piece of land back there in the forest. There are 100-year-old evergreen trees. It's a place where you can have a Zen moment. Peter and I will try to be as sensitive as we can."
- To reach Brandon Gee, call 871-4210
or e-mail bgee@steamboatpilot.com