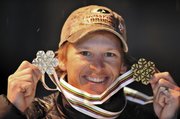 For most of his career, Steamboat Springs skier Todd Lodwick has carried the weight of America's Nordic combined dreams on his shoulders.
This week in the town of Liberec, hidden in the mountains of the Czech Republic, the weight of high expectations has been replaced by the weight of world championship medals.
Lodwick earned his second gold medal of the week in Sunday's individual Gundersen event, and with the help of teammate Bill Demong, managed to set a new American standard at the world championships. Demong took the bronze Sunday, making it the first time Americans have claimed two of the three podium spots in a world championships event.
In a span of three days, the expectations Lodwick has carried through four Olympics and seven World Championships have vanished, replaced with a gold medal from last Friday's mass start event and another in the first of two scheduled individual Gundersen events at the 2009 FIS Nordic World Championships..
"The weight of the Nordic combined world and all the expectations have been lifted," U.S. Nordic combined coach Dave Jarrett said Sunday. "Todd was free to fly, and that's exactly what he did (Sunday)."
Jarrett spoke to the Steamboat Today shortly after the awards ceremony in Liberec late Sunday evening. Lodwick stood on the top stair with a gold medal hanging around his neck. Teammate Bill Demong, a native of Vermontville, N.Y., who spent several years training in Steamboat Springs, was to Lodwick's left with the bronze. It was Demong's second world championships medal; he won silver at the 2007 world championships in Sapporo, Japan.
Lodwick put himself in the driver's seat of Sunday's "normal hill" individual Gundersen event after soaring 99.5 meters in the jumping round. It wasn't the longest jump of the day, but the veteran's style points put him on the cross-county track first - 2 seconds in front of Norway's Jan Schmid and Finland's Anssi Koivuranta.
Lodwick posted the third-fastest time in the cross-country race and won the event in a time of 24 minutes, 22.3 seconds. Schmid held on for second, and Demong, who started 36 seconds after the leaders, finished third thanks to a blistering performance on the cross-country course.
"I think the most important thing about today, and probably the coolest, is that I'm able to share this podium with another teammate," Lodwick said in a U.S. Ski Team news release. "I can't believe that I get to share this world championship podium with a teammate."
Lodwick became the first American Nordic combined skier to hold two world championship gold medals. U.S. teammate and fellow Steamboat Springs resident Johnny Spillane (16th in Sunday's race) won the gold in 2003 in Val di Fiemme, Italy.
"I don't know how you put it into words," said Tom Steitz, former head coach of the U.S. team. Steitz, who coached from 1988 to 2002, recruited and coached Lodwick, Demong and Jarrett. "Two gold medals - I don't know what to say. It's shocking," he said.
Steitz said he spent most of Sunday fielding calls and e-mails about the American team's success in the Czech Republic. But he also admitted that he took a few minutes to head to Howelsen Hill to ski.
"I was over at Howelsen looking up at the jumps and thinking that this really is a great day for Steamboat Springs, and we should all feel good about it," Steitz said.
Jarrett said the entire team was feeling good Sunday, but with two events remaining for the Nordic combined skiers, he still hopes for even more good news.
"What a day. This is the stuff you can only imagine in a dream, and it has been an incredible start," Jarrett said. "We have two down, but there are still two more to go. We don't want to let down now."
Jarrett said the team has high hopes for Thursday's team event and the final large hill individual Gundersen event scheduled for Saturday.