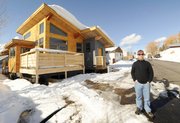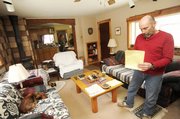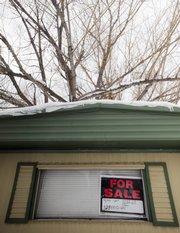 Housing in Steamboat*
Types : Units : Avg. cost (per square foot)
Single-family : 1,645 : $268
Duplex/triplex : 88 : $282
Townhomes : 1,399 : $248
Condos : 4,022 : $310
Mobile homes : 452 : $37
*Boundaries of the Steamboat Springs School District rather than city limits
Source: Yampa Valley Partners' 2009-10 Community Indicators Project
Steamboat Springs — On opposite ends of downtown Steamboat Springs sit two neighborhoods that, for all their similarities, find themselves in very different situations.
At Hilltop Homes near Steamboat Springs High School, homeowners association President George Danellis points happily out the window of his double-wide trailer to the neighborhood's first custom-built home. On another lot around the corner, an owner is asking for $295,000 for the 0.1-acre site of a 1967 mobile home.
Across town at unit No. 55 in the Dream Island Mobile Home Park, Ray Uhl laments the decaying state of the 70-lot mobile home park, where owners live month-to-month with their only security being a languid real estate market and the physical challenges of the site itself. A four-bedroom trailer in Dream Island is for sale for just $29,000.
"They're turning into dumps because we're in limbo. We're on the chopping block," said Uhl, a roofer who has become a regular at Steamboat Springs City Council meetings for about a month. "We can't move them (because of their age). We can't sell them. So we're just sitting here waiting for the bulldozers."
Considering the frequency with which affordable housing is debated in Steamboat, Uhl is confused by how infrequently the word "trailer" is ever used.
"They don't seem to care about that," Uhl said of city officials. "The reason I'm so frustrated is, we're not seen as part of the solution. We're not even seen as part of the problem. We're being ignored."
"It feels like discrimination really," Mary Greenley added. "It's like we don't even exist."
Limited protection
Although Uhl feels mobile homes are underappreciated, officials in the city's Planning and Community Development Department don't hesitate to acknowledge their worth.
"I think they play a critical role," Director Tom Leeson said. "They provide a significant portion of our worker housing in the city. : To lose them would be a significant loss for the city."
Missing, however, are any meaningful protections in city codes.
"If (a mobile home park) was redeveloped, they're certainly not going to replace it with in-kind units," Leeson said. "It would be a loss."
Section 26-83 of the city's Community Development Code requires that a "mobile home park conversion impact report" accompany any application to convert, cease or change the use of a park.
"The reporting requirement is necessary because mobile home park space is difficult to obtain and relocating difficult and costly, and the closure of mobile home parks or their change of use has serious implications or results for homeowners who may find it impossible to relocate to a comparable park," the code states.
While this report is to be used by the Steamboat Springs Planning Commission and City Council in evaluating a conditional use permit, there are no concrete protections for mobile home parks and their owners. Leeson said most of the teeth - such as relocation or compensation requirements - were removed from the 2001 ordinance before it was finally adopted.
"It was just political will, I think," Leeson said.
Also, the city's current affordable housing policies only apply to net increases in units and square footage. For example, if a developer were to redevelop any of Steamboat Springs' mobile home parks with a product that had less units than the park, there would not be any requirements under the city's inclusionary zoning policy.
"If they're removing affordable units, they ought to be made to pay for the units they're removing," Uhl said. "That saves us. These units, which I consider affordable units, will be an investment. Standards will go up."
If there was a net increase in units, inclusionary zoning would require that only 15 percent of the additional units be affordable. The city's linkage policies work similarly.
Even then, Community Housing Coordinator Nancy Engelken said, the cheapest deed-restricted unit that would be created under the affordable housing ordinance would cost about $160,000.
"I can't afford affordable - what they call 'affordable,'" Uhl said. "I just don't want to get kicked out of town. I've lived here 31 years. I like Steamboat. I don't want to live in Oak Creek. I don't want to live in Craig. I want to live in Steamboat."
Not just housing
Engelken agreed that there aren't enough protections in place for mobile-home-park residents and said the issue is about more than housing. This decade, Westland and Trailer Haven mobile home parks have disappeared in favor of redevelopment. Westland had 39 units, and Trailer Haven had 11.
As the city was considering the proposed River Walk project that ultimately was approved and led to the demolition of Westland, a 2004-05 study of the park found that, out of 14 households, five people had lived in the area 30 years or more and eight people had lived in the area 12 years or more. There were five families with children, and household incomes ranged from less than $15,000 a year to $39,000 a year, with the majority earning between $20,000 and $29,000 a year.
Residents' jobs included truck driver, line cook and dishwasher, TIC safety assistant, electrician, night foreman at a grocery store and resort-oriented jobs. Two residents were physically disabled and receiving government assistance. Residents volunteered with organizations including LIFT-UP of Routt County, Routt County Search and Rescue, and Partners of Routt County.
"I think it goes beyond housing, indeed; it's a community issue," Engelken said. "It isn't just about housing. It's about the economic vitality and community vitality."
Before moving to Dream Island, Uhl was a resident at Westland. He remembers the anxiety and hopes to avoid a repeat. In 2006, the city and developer Jim Cook agreed to provide a total of about $550,000 for compensation to Westland residents, who received an average of $19,400 each. But there's no guarantee something similar would happen if Dream Island or any of the city's other mobile home parks were purchased and redeveloped. Uhl said Dream Island residents have jobs such as police officer, nurse, builder, business owner, janitor and teacher. Uhl said he pays $550 a month for his lot rental.
"We are the work force," Uhl said. "Everybody who lives here works in Steamboat."
Shining success
Similar demographics live in the Hilltop Homes neighborhood, where 17 owners collectively purchased the land in their neighborhood from their landlords with the help of the old Regional Affordable Living Foundation, or RALF, in June 2000. The purchase is still considered a shining example about how to save a mobile home park.
When Danellis moved into the neighborhood not long after its conversion, there was one house. There now are six houses, with more planning to break ground.
"I plan on building a smaller, energy-efficient home so it's healthy and it reflects you don't need a lot of space to have a really great home space," Danellis said. "You don't need a McMansion to live large. : It just goes to show you, there's different ways to live."
Although all mobile home park conversions face challenges such as the cost of updating infrastructure, the fact is that Hilltop Homes did not contend with some of the issues facing parks on the Yampa River such as Dream Island, Sleepy Bear and the Fish Creek Mobile Home Park.
Federal regulations make it nearly impossible to build in the floodway, where some homes now are located, and much of the rest of these parks also are located in the floodplain, which poses less, but still significant, challenges.
In 2007, the Yampa Valley Housing Authority, RALF's successor, purchased the 67-unit Fish Creek Mobile Home Park but has yet to finalize the details of transferring the park from its ownership to the residents. Individual lot ownership - as was accomplished at Hilltop Homes - appears impossible because of challenges posed by the river, Fish Creek and city subdivision regulations, so the Housing Authority is leaning toward a co-op model that would see residents purchasing a share in a homeowners association that owns the land.
Danellis, who stressed that he is sensitive to the property rights of those who own the parks, said a successful conversion ultimately depends on an improbable mix of an owner committed to protecting his residents and substantial efforts by the city and others. Hilltop managed to achieve all this; Danellis said the Realtors involved even donated their commissions.
"Nothing's going to be easy, but it's an important issue," he said. "We have a really good opportunity to have a denser single-family neighborhood that is well-maintained and is maybe a bit of an example for what's possible. Maybe not just for mobile home areas, but more generally. : But somebody, somewhere is going to have to give it up a little bit to make it work out."