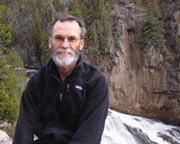 Age: 55
Occupation: Structural engineer
Place of birth: New Orleans
Q. When did you move to Routt County, and what brought you here?
A. 1979. I came to visit my sister, Kathy. Kathy left. I stayed.
Q. What's the biggest risk you've taken recently?
A. Flying gliders.
Q. Describe your morning routine.
A. Hug my wife, Linda, spice tea, three eggs, wake up.
Q. Has a book ever changed your life? What was it and why?
A. "Business Law" (for business school). Most legal questions are resolved by simply asking, "What would a reasonable man do?" It's been a useful compass for business and society.
Q. What three things would you want people to know about you?
A. 1) I'm great at doing dishes. 2) I rig a good boat. 3) And I'd love to go on your river trip.
Q. What did you want to be when you grew up?
A. Architect.
Q. If you could invite any four people to dinner, who would they be and what would you talk about?
A. Michelle Obama, Ayatollah Khomeini, Fareed Zakaria and Carla Portigal. We'd talk about our childrens' shared future.
Q. Do you collect anything?
A. Kayaks.
Q. In the Meatloaf song, "I'd do anything for love, but I won't do that," what is that?
A. Another dirt bike ride through Goblin Valley, Utah.
Q. What was your first job?
A. 50 cents an hour to "gentle" three foals.
Q. Who is your favorite superhero? Why?
A. My wife, Linda. She is the planet's gentlest person.
Q. Do you have any phobias?
A. That our world will not find peace.
Q. If you could go back in time, to what event or time period would you go?
A. Endless loops of those Grand Canyon river trips.
Q. What is your favorite thing to do in Routt County?
A. Spending an afternoon loitering and kayaking my way from Fifth Street to 13th Street during mid-June.
Favorites
Book: "Earth From Above: 360 Days"
Song: "Don't Panic," by Coldplay
Food: Cajun
Vacation spot: Mal Pais, Costa Rica
Movie: "Baraka"
Magazine: The Economist