Photo Gallery
The Steamboat Springs Center for Visual Arts exhibition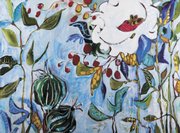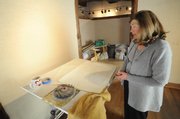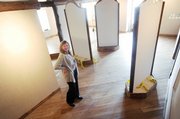 Opening day
The Steamboat Springs Center for Visual Arts, at 56 Ninth Street, opens its doors March 1. A reception for its first show - an exhibition including new paintings by Lance Whitner, work by students at Steamboat Springs High School and The Lowell Whiteman School and pieces by community artists - is March 6 during First Friday Artwalk.
For more information about the gallery, to become an artist member or to submit work for the space's consignment art loft, call gallery owner Linda Laughlin at 846-5970.
Linda Laughlin has no shortage of ideas about what to do with her new gallery, the Steamboat Springs Center for Visual Arts.
She'd like the Ninth Street art space to be a hub for community work, a studio space for school-age artists, a consignment center for beloved but discarded pieces and an affordable place for Routt County artists to sell their stuff.
Thinking about everything she wants the center to be, Laughlin has to stop herself.
"There's a part of me that would like everything to be perfect day one, but I'm really trying to meditate through that," she said, sitting in the gallery's downstairs office Wednesday afternoon.
Laughlin signed the lease on this space three weeks ago and has worked with co-owner Henry Laughlin and gallery manager Gabrielle Savage to shape the former Two Rivers Gallery building into a multi-room community art center. The business has nonprofit status, and the Laughlin's have taken on full financial backing.
On March 1, the Center for Visual Arts will open its doors to the public. On March 6, the gallery hosts an opening reception for its first show, a combination of new paintings by Steamboat artist Lance Whitner, portfolio work by art students at Steamboat Springs High School and The Lowell Whiteman School, and pieces by as many community artists as Laughlin can find.
By Wednesday afternoon, 50 local artists had agreed to pay the $25 a month required to show work in the gallery. Laughlin had a list of about 100 more artists she planned to call in the next week.
"It's (an) artist member show 12 months out of the year here," she said.
Those member artists will be allowed to sell work at the Center for Visual Arts at a 10 percent commission. Artists can trade one day of gallery-sitting for each month's fee. Gallery-sitting spots for March are full.
'Out of the woodwork'
Laughlin sent out an e-mail blast to every local artist she had a contact for as soon as plans for her new gallery were cemented.
"There have been artists in here the past two weeks that are coming out of the woodwork," Laughlin said.
One of those artists in Vanda Nohinek, a painter who has exhibited several times at the Steamboat Springs Arts Council annual artist member show but does not show work regularly.
"This is a great opportunity for someone like me, that you don't have to lay out thousands of dollars to get your work shown," Nohinek said.
When Nohinek saw Laughlin's call for art, the announcement stood out, she said.
"This seemed particularly good for me, because sometimes when they solicit artist work it's for a contest to a poster or something like that, and not just your work," Nohinek said. A spot at the Center for Visual Arts will allow her to paint what she wants - portraits, mostly - and put it out to the public.
"It's making me spend more time in my studio instead of skiing," Nohinek said, joking that she's been making it to her Village Drive studio more often in the past few weeks to get ready for the gallery opening March 1. "I say, 'Well, should I go skiing or should I paint?' And I say, 'Well, I better go paint.'"
There's no set deadline for when local artists need to contact the Center for Visual Arts to show there. To get art on the walls in March, Laughlin said artists should contact her or Savage in the next week.
A focus on young artists
It hasn't escaped Laughlin that starting a business right now - especially an arts business - is going to be tricky. She's hoping to break even and maintain a focus on providing opportunities for local and emerging artists.
"This is not anything that's going to make me rich, but it might make me rich in other ways," she said.
Laughlin said she hopes the gallery can be a refuge for an arts community and town that she sees entering hard economic times, a place "for community artists to still be able to show their work and to keep the heart of the Steamboat arts community beating," she said. Among her community goals are a focus on school-age artists.
"I've got this idea about turning the gallery over at night to high school art students," Laughlin said, shuffling through rough plans that show a few drawing tables, a large ottoman, and space for art supplies. Ideally, the room would be available for chaperoned, responsible students to work after hours - Laughlin suggested 9 p.m. to 1 a.m.
Like many of her ideas for the space, this would not happen immediately, and Laughlin would look for funding to pull it off.
For now, she's reminding herself to take the business of speed gallery construction one step at a time.