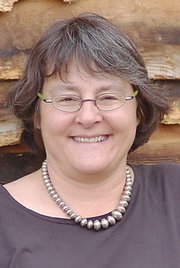 Joanne Erickson joins Coldwell Banker team
Coldwell Banker Silver Oak has announced that Joanne Erickson has joined its real estate firm as a broker associate.
Erickson was born in Louisiana but grew up primarily in Spain and Portugal. She is fluent in Spanish and speaks a variety of other languages. In addition to an English language Web site, www.steamboatexpert.com, she is developing www.vivasteamboat.com for her Spanish-speaking clients.
Erickson graduated from the University of Washington with an MBA in 1981 and worked in international banking and the oil service industry. In 1994, she founded an adventure travel company offering hiking trips in the Himalayas. After 9/11, she volunteered with several humanitarian organizations in Afghanistan and Uganda.
Erickson received her real estate license in January 2007.
Karen and Mix Beauvais have owned the Coldwell Banker Silver Oak branch for 28 years.
Information session to help with property sale
Property owners contemplating the sale of their real estate are invited to attend a free information session, "Are your Ducks in a Row? Selling in Today's Market" from 4 to 5:30 p.m. Tuesday in the Spring Creek Conference Room at the Steamboat Grand Resort Hotel. Kathryn Pedersen, of Yampa Valley Bank, and Cam Boyd, of Prudential Steamboat Realty, will lead a discussion about market trends, lending and steps sellers should take to prepare their properties for sale.
Median home price tops $1.1 million in 2008
Doug Labor, of Buyer's Resource Real Estate, reported this week that although prices declined in many categories within the Steamboat Springs Multiple Listing Service, the median price of a home increased.
The median price was $850,000 during the boom year of 2007 but climbed to $1.1 million in 2008. The median price represents the middle of the range from lowest to highest.