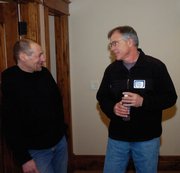 The Tuesday auction for two luxury south Steamboat homes led to the sale of one of them. Owner Will Bashan just isn't certain which one. And technically, neither home sold at auction.
Bashan owns both homes. He confirmed what his auctioneer, the Redfield Group, is reporting on its Web page: that the smaller of the two, his 6,500-square-foot home in Dakota Ridge, is under a sale agreement to purchasers who have agreed to pay $2.31 million for the home overlooking Steamboat Ski Area.
The prospective buyers are Herb and Lori Hall, of Thomas County, Neb. They placed the high bid of $2.1 million during the auction, but Bashan rejected that offer after the auction closed and then negotiated through the auctioneers to arrive at the higher price.
Yet, Bashan said it's possible the Halls will opt to purchase the larger and more expensive home offered at auction last week.
According to Redfield, Bashan rejected the high bid of $3.7 million for the never-occupied 8,800-square-foot home at 35755 Blazemark Trail. It's just off Routt County Road 14 and a little south of Dakota Ridge.
Auctioneer Mike Fisher said the buyer, who bid via telephone, was from Connecticut. In negotiations, Redfield reported on its Web page that Bashan had rejected an offer of $4.125 million for the house, which previously had been listed at $6.8 million and appraised at $6.2 million.
"I spoke to the buyer by phone today to answer questions," Bashan said. "We still don't know what's going on for sure, except that I've sold a house. They still have a strong interest in the Blazemark house."
Bashan said the Halls asked for a couple of days to consider their choice, and he was content with that.
"My goal was to not own two large houses, so I'm pretty happy about that," Bashan said. "Would I have liked to have a better economy and a more robust real estate market? Yeah."
Measuring the market
The larger Blazemark home went on the auction block first, in the middle of a snowy afternoon that didn't allow bidders to appreciate views of the Steamboat Ski Area from the home. It occupies 21 acres, including 350 feet of Yampa River frontage.
Realtors Marc and Audrey Small, of Prudential Steamboat Realty, who are partners in one spec house currently for sale and have another in the Steamboat market of their own, were registered bidders for last week's auction, as well as curious onlookers.
"At $6.8 million, no one's going to buy it," Marc Small said. "At $3.8? Maybe. It's a lot of house."
Fisher opened the proceeding by touting $1.2 million invested in the building site, the $300,000 he said Bashan spent on burl wood sandstone from Arkansas, $100,000 of appliances and $250,000 invested in landscaping, plus a custom steel and copper range hood in the kitchen that was made by Steamboat craftsman Tony Ditrani.
Then, the auctioneer really launched into his pitch.
"How many times have you heard someone say, 'Ten years ago, I could have bought that house for (a lot less)?" Fisher asked. "Well, today is seven and 10 years ago. Today is when people buy and make money."
Fisher kicked the auction off with the advertised opening bid of $1 million and, within 60 seconds, telephone bidders had increased the bid to $2 million and $3 million. That's about as long as the true excitement lasted for the crowd of about 25 people.
When Fisher called out for $3.5 million, he was met with impassive stares from the gathering.
Bashan watched from a second-floor balcony as Fisher began working the price upward in increments of $100,000, until he was stuck at $3.5 million for an extended time.
"That guy is working real hard," Bashan said. But he confirmed he wasn't close to accepting the price.
"It won't sell at this price level," he said.
Bashan remained unfazed when the bid increased to $3.7 million and later rejected the final offer of $4.125 million from the Connecticut bidder.
Bashan predicted that with luck, he might sell the smaller house and end up moving his family into the larger house.
"They've got a ways to go," he said. "I'm not feeling it, as my kids would say."
Bidding on the Dakota Ridge home was between two bidders. The Halls, who were present, were the most determined.
They said they own a ranch in the Sandhills of Nebraska between North Platte and Valentine but have long ties to Colorado. Herb Hall said he was the drywall contractor on the Sheraton Steamboat Resort in the 1970s. Their family owns a home in Beaver Creek but has concluded they would fit in better in Steamboat, Lori Hall said.
Perspective
Tom Dover, the general contractor who built the Blazemark home, said he would regard it as potentially harmful to the Steamboat market if the house did not sell at auction.
Bashan later rejected the idea that a selling price in the mid $4 millions for a home he priced at $6.8 million led to any clear conclusions about the current state of the market.
"I've spent a lot of time thinking about that," Bashan said. "Some people would say, 'That's the market now.' I don't agree with that. If you had 50 auctions in a month, that might make the market. But this is just what happened at this point in time."
With a probable end to the sale process in sight, Bashan concluded that the auction process allowed him to create a sense of urgency and essentially choose his own sale date.
"If I hadn't sold either home, I'd still feel good about it, because at least I'd have done something proactive in a difficult market," he said.
- To reach Tom Ross, call 871-4205
or e-mail tross@steamboatpilot.com