Photo Gallery
2009 state wrestling championships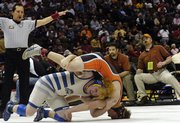 Team scores
1. Paonia 139.5
2. Wiggins 124
3. Rocky Ford 107
4. Hayden 103
5. Norwood 94.5
6. Ignacio 94
Hayden wrestling, 2008-09
9 a.m. Jan. 17 at Rangely Tournament
9 a.m. Jan. 24 at West Grand, League Tournament
6 p.m. Jan. 31 at Meeker
9 a.m. Feb. 7 at Eaton Tournament
Feb. 13 to 14 at Regional Tournament
Feb. 19 to 21 at State Tournament
Denver — The trio of Hayden wrestlers that dropped into the consolation bracket after losses in the Class 2A state championship semifinals Friday didn't show any ill effects of the disappointing turn they took as they neared the season's end.
Senior Coy Letlow wrapped up his wrestling career Saturday with a pair of victories and a third-place finish in the 189-pound division.
Sophomore Treyben Letlow followed his lead, finishing third at 215 pounds.
Senior Jake Magee finished with a flourish of his own. He lost both of his Saturday matches and fell to sixth place but fought all day after breaking his hand early in his first consolation bracket match.
"All those guys wrestled well," Hayden coach Ty Zabel said. "We would have liked to have seen a few more get through on Friday, but we finished with two seconds, two thirds and a sixth. That's hard to complain about."
Coy Letlow logged his best finish in four trips to state after a rough loss in the 189-pound quarterfinals late Friday night.
Letlow pinned Paonia's Josh Burns in the first round of his first Saturday match, then was aggressive and took an early lead against Justin Guynes, of Dove Creek, in the third-place match.
Letlow went on to win, 5-3.
"I was just happy to finish the way I did," he said. "I would have loved to have been in the finals, but the kid I wrestled (Friday) was a tough kid.
"I'll settle for third with a loss to a kid like that."
Treyben Letlow, meanwhile, made quick work of his consolation-bracket finals opponent, Chance Wyatt, of Ignacio.
Letlow took control of a back-and-forth match midway through the first period and earned the pin.
"I caught him in a headlock and finished it," he said.
He defeated Ben Fehr, of Baca County, in the consolation semifinals.
Senior Mitch VeDepo fell from the tournament after he was pinned by Ty Pfeiff, of Crowley County, in the first period of the consolation quarterfinals.
Magee broke his hand while wrestling Choncey Taylor, of Burlington, whom he'd pinned in the second round of his tournament opener Thursday.
His next lost was to Matt Swim, of Byers, the wrestler he defeated, 7-3, on Friday morning to advance to the championship semifinals.
He wasn't sweating the turn of fate.
"It's hard to wrestle with a broken hand," he said, rubbing the first splint that ran from above his wrist to the base of his fingers. "I was just trying to wear them out there in those last two matches. But, this is the state tournament. I got them to gasp a few times, but it's tough to wear guys out wrestling here."