Hayden wrestling, 2008-09
9 a.m. Jan. 17 at Rangely Tournament
9 a.m. Jan. 24 at West Grand, League Tournament
6 p.m. Jan. 31 at Meeker
9 a.m. Feb. 7 at Eaton Tournament
Feb. 13 to 14 at Regional Tournament
Feb. 19 to 21 at State Tournament
Team scores
1. Paonia 139.5
2. Wiggins 124
3. Rocky Ford 107
4. Hayden 103
5. Norwood 94.5
6. Ignacio 94
Photo Gallery
2009 state wrestling championships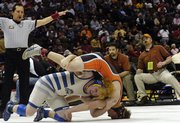 Denver — A few bad breaks sank Hayden's chances of sneaking into the top tier of the Class 2A wrestling standings Saturday, the final day of the state wrestling tournament in Denver.
Both of Hayden's championship match qualifiers lost in bitterly contested bouts. A pair of third-place finishes wasn't enough to lift Hayden into the top three 2A teams.
"Things didn't finish up the way we wanted them to, but I'm proud of them," Hayden coach Ty Zabel said. "I'm real proud. Our kids wrestled their hearts out."
Hayden came desperately close to the kind of success that would have made even its magical run Friday seem quaint.
Freshman Chad Terry lost the 103-pound championship match to Jacob Garcia, of Rocky Ford, 1-0.
Senior Mitch Doolin later lost in the 160-pound finals, falling 5-2 to Mike Lozano, of Holly.
Coy Letlow at 189 pounds and Treyben Letlow at 215 finished third in the tournament. Jake Magee, who broke his hand in the first of his two Saturday losses, was sixth at 152 pounds.
It all added up to a fourth-place team finish for the Tigers.
Terry flipped out
A somersault doomed Terry in one of the most tightly contested matches of the championship round.
The wrestlers dueled on their feet for all two minutes of the first round, and then Terry started the second on top of Garcia.
The Rocky Ford sophomore seemed on the cusp of breaking free on two occasions, but Terry stunted both attempts and tackled Garcia hard back down to the mat.
The third try finally paid off. Terry clung tight around a kneeling Garcia, laying on top of him and driving him into the mat. Garcia slipped a few inches forward, then rolled once.
"I thought he was going to try a split, but he went and rolled forward," Terry said. "He broke through my arms and got away."
The move was good for a one-point escape.
Terry started the third period on the ground and tried to score an escape of his own. Although he came close on several attempts, he was never able to get a clean break.
"It was a pretty close match," Terry said. "It still feels pretty cool to take second."
Cradle downs Doolin
Doolin narrowly avoided being pinned in the second round of his 160-pound final, but surviving that scare wasn't enough to win the title in his third trip to state.
Lozano picked up two early points with a takedown, then wrapped Doolin into a cradle in the waning seconds of the second round. It was all Doolin could do to keep his head and shoulders off the mat.
"I was just trying not to avoid the pin," he said. "I didn't have any idea how much time was left."
Doolin maneuvered Lozano into the same position midway through the third, but the Holly sophomore managed to roll out of it and surrendered only two points.
"After that, I was trying to do anything I could," Doolin said. "He was awfully tough."
Iacovetto wins at 119
Patience paid off for former Soroco High School wrestler Justin Iacovetto.
The 119-pound senior, who transferred to Paonia for school in the fall, won his bracket at the Class 2A state championship wrestling match.
Iacovetto fell short in his previous two trips to the state finals match, both of which came while wrestling for Soroco.
On Saturday, he defeated Andrew Scherrer, of Simla, for the championship with a third-round pin.
"It's indescribable," Iacovetto said about winning. "I was just an all-around better wrestler this year."