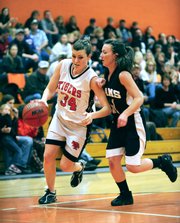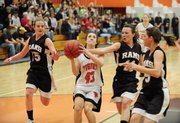 Soroco girls basketball, 2008-09
7:30 p.m. Dec. 2 at Moffat County JV
Dec. 5, Soroco 65, Clear Creek 24 at West Grand Tournament; (2-0)
Dec. 6, West Grand 47, Soroco 27 at West Grand Tournament; (2-1)
Dec. 9, Soroco 58, Steamboat JV 38; (3-1)
Dec. 12, Hayden 73, Soroco 42; (3-2)
Dec. 13, Soroco 51, Vail Christian 37; (4-2)
Dec. 20 North Park 53, Soroco 46; (4-3)
Jan. 10, Rangely 63, Soroco 36; (4-4)
Jan. 15, Soroco 36, Moffat County J.V. 31; (5-4)
Jan. 16, North Park 49, Soroco 40; (5-5)
Jan. 23, Soroco 60, De Beque 29; (6-5)
Jan. 24, Meeker 59, Soroco 39;(6-6)
Jan. 30, Plateau 60, Soroco 49;(6-7)
Feb. 6, West Grand 56, Soroco 50;(6-8)
Feb. 7, Paonia 64, Soroco 51;(6-9)
Feb. 13, Hayden 55, Soroco 39;(6-10)
Feb. 14, Soroco 58, Vail Christian 37;(7-10)
Feb. 21 district play at home sites
Feb. 27-28 districts at Meeker
Hayden girls basketball, 2008-09
Game statistics
Score by quarter
Hayden 11 14 10 26 - 61
Soroco 9 7 9 15 - 40
Hayden - H. Salazar, 12; R. Koehler, 10; C. Mahanna, 9; J. Woodley, 8; K. Sweetser, 8; K. Rolando, 5; D. VeDepo, 4; K. Harris, 2; E. Cromie, 2; E. Koehler, 2; C. Manzanares, 1.
Soroco - S. Rossi, 15; L. Miles, 9; S. Miles, 6; M. George, 6; T. Schlegel, 2; K. Maes, 2.
Steamboat Springs — The Hayden girls basketball team dealt Soroco a season-ending 61-40 loss Saturday, grabbing two more weeks of play for the Tigers.
The Hayden High School squad will continue on to the district tournament, with two games Friday and Saturday in Meeker, and then - regardless of those results, which affect seeding - go on to regionals the next week.
Soroco High School coach David Bruner said it was disappointing to end the season with a loss.
"We've got a lot of young kids; they have a lot of seniors," Bruner said. "They're 19-1; this is their year."
The girls kept one another on their toes during a frenetic first quarter. Soroco struggled with scoring until late in the quarter, but brought scoring up to 9-11 in the first.
The Rams tied it up at 15 midway through the second quarter, but the Tigers powered back to a 25-16 lead at the half.
"The first half wasn't too good, but we came out tough in the second half and took care of it," Hayden coach Eric Hamilton said.
Soroco freshman Lindsay Miles, who put away nine points Saturday, kept her team in the third quarter with a six-point run, but the Tigers maintained their lead, finishing the quarter 35-25.
The court heated up in the fourth quarter, when Hayden knocked back 26 points and Soroco battled back with 15, including the game's sole 3-pointer from freshman Madison George. The Tigers ultimately sent the Rams home for the season, 61-40.
As a team, the Tigers hit 19 of 23 free throws, knocking the Rams' 10 of 15 out of the water. Soroco not only made less of their shots from the line, but also had trouble getting there, Bruner said.
"They killed us on the free-throw line," Bruner said. "They're a big team, and it's hard not to foul them."
Soroco's top scorer Saturday, senior Sarajane Rossi, put in 15 points and went 6 for 8 at the free-throw line. Junior Rachael Koehler and senior Holli Salazar led the Tigers in scoring with 10 points each, with eight of Salazar's points coming from her nine shots from the line.
Hayden sophomore Delanie VeDepo scored four points off the bench, and junior Jarah Woodley, who scored eight points, "had a heck of a game in the second half," Hamilton said.
"We've been telling her to shoot the ball this year, and she's really stepped up her game," he said.
The Hayden girls will take on Meeker or Plateau Valley at 6:30 p.m. Friday at Meeker. The Tigers also are guaranteed a second game in Meeker on Saturday.
"We're hoping for another shot at Paonia," Hamilton said. Paonia handed the 19-1 Tigers their sole loss this season, taking down Hayden, 54-49, at home Jan. 23.