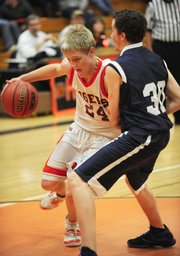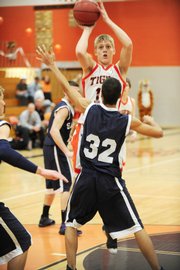 Game statistics
Score by quarter
Hayden 12 15 5 19 - 51
Vail Christian 7 9 3 15 - 34
Hayden - Z. Barnes, 15; B. Zehner, 11; Z. Engle, 8; M. Smartt, 8; J. Engle, 6; G. Medvesk, 3.
Vail Christian - L. Cavanaugh, 12; A.J. Burgess, 7; C. Schmidt, 7; D. Christie, 2; E. Ristow, 2; F. Hernandez, 2; T. Emmer, 2.
Hayden boys basketball, 2008-09
Steamboat Springs — The Hayden boys basketball team struggled offensively Saturday, but opponents Vail Christian struggled even more and the Tigers kept their season alive with a decisive 51-34 win.
Thanks to Saturday's victory, the Tigers will continue on to the district tournament with games Friday and Saturday in Meeker and are guaranteed a spot in the upcoming regionals.
Hayden and Vail Christian had trouble getting to the basket Saturday, culminating in a dismal third quarter with only eight points scored between the teams.
"We really struggled offensively today, right from the tip-off," Vail Christian coach Sheldon Kuhns said. "We had some decent opportunities under the basket but didn't score."
The game started off a little more promising, with Vail Christian leading early in a tight first quarter. Hayden senior Billy Zehner wowed the home crowd with a buzzer-beating 3-pointer from behind the half-court line to end the first quarter 12-7.
Hayden continued to pull away from Vail Christian, ending the second quarter, 27-16, and allowing points by only three of the Saints: seniors Chris Schmidt and A.J. Burgess and junior Larry Cavanaugh.
Both teams went scoreless for nearly six minutes at the start of the third quarter, despite trips to the free-throw line by Hayden junior Murphy Smartt and Vail Christian's Schmidt. Vail Christian's leading scorer, Cavanaugh, finally got the game moving again with a layup, and Hayden's Zehner got his team back in the game by nailing two from the line.
"The third quarter was ugly," Luppes said. "I said to the team: The bad news is we scored five points. The good news is we extended our lead."
Hayden's five points and Vail Christian's three brought the score to 3219 heading into the fourth quarter.
After the low-scoring third quarter, the Saints rallied back, narrowing Hayden's lead to nine before the Tigers pushed it back to 17, closing out Vail Christian's season with a 34-51 loss.
"The fourth quarter, we started running and pushing their press," Luppes said.
Despite the Saints' offensive struggles, including missed fast breaks and trouble getting to the free-throw line, Kuhns said he was happy with his team's defensive performance, holding Hayden to 51.
Hayden's top scorer, Barnes, had seven of his 15 points in the fourth quarter, with 5-for-6 shooting at the free-throw line Saturday.
As a team, the Tigers went 9 of 4 at the free-throw line, besting the Saints' 4 of 7.
Hayden will take on Plateau Valley or Paonia at 5 p.m. Friday in Meeker.