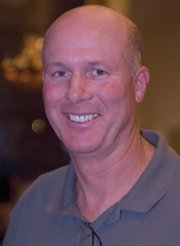 In a Friday meeting with top city of Steamboat Springs officials, City Manager Jon Roberts asked department leaders to consider having city employees take four hours of unpaid leave a week. Such unpaid leave is known as furloughs.
"It's something that we're evaluating as a possibility with the management team," said Roberts, who is in his first week as city manager. "It might need to be applied in different ways depending on the department."
Roberts said the goal would be to substantially reduce personnel costs without reducing levels of service to city residents. Roberts said the proposal had not been taken to city employees, but rumors of the proposal had worked their way throughout the organization by the end of the day.
Full-time city bus driver James Lehmann said he knew the idea was being considered but that he had yet to hear any details. Lehmann said he is single and that the loss of four working hours a week would have a significant impact on his "pretty tight budget."
"It would affect me very greatly," Lehmann said.
On the other hand, if instituting furloughs will save some city employees' jobs - including his - Lehmann said, "I'd prefer furloughs to firings."
Roberts did not have any estimates for how much money the proposal might save, but he said he has asked Interim Finance Director Bob Litzau to prepare such figures.
"It depends on how widespread you could implement it," Roberts said. "I expect it could be significant."
The city has 203 full-time positions and 51 part-time and seasonal positions, according to the city's 2009 adopted budget. If all city employees were made to take weekly, four-hour furloughs - and the city's personnel costs of $15.3 million in the 2009 budget declined by a proportional amount - the move would save the city $1.53 million.
Asked Friday evening whether she would support furloughs, Councilwoman Cari Hermacinski said it was "a question in the vacuum" and that she would have to see the proposal in the context of other cost-saving options and the city's overall financial position. Hermacinski noted that the city considered furloughs as it prepared its 2009 budget in the fall. City Council is scheduled to hold hearings on its budget March 3 and 10. There is no City Council meeting next week.
Roberts said that whether he would ask for council's permission to implement furloughs depends on how significant of an impact department leaders tell him it would have.
"And, of course, I'm still getting a sense of what types of things this city takes to their council," Roberts said.
The city already has frozen 11 open positions and eliminated three. The city has seen four straight months of sales tax decline, with drops of 9 percent in November and December. Sales tax is the city's main source of revenue for operational expenses. Hermacinski has said the city may have to make $2 million worth of cuts at next month's meetings. Deputy City Manager Wendy DuBord said last week that additional cuts could amount to 10 percent of the city's $56 million budget.
In addition to considering furloughs, Roberts has asked department leaders "to go back and scrub through every single line item" to identify any possible savings. This week, Roberts said he received a complete briefing from the city's finance staff on the city's financial structure and debt obligations. Roberts said he doesn't see any threats or weaknesses.
"In my opinion, the city is, structurally, very sound from a financial standpoint," he said. "What that means we're dealing with is just a downturn in the economy that we're all dealing with, and that leads to a reduction in revenues. The best way to deal with that is with commensurate reduction in spending."