Photo Gallery
2009 state wrestling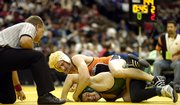 Photos of Soroco's Lauryn Bruggink and Hayden wrestlers at the 2009 2A state wrestling tournament in Denver.
Today's action
11 a.m. Consolation semifinals
Hayden has four wrestlers - Mitch VeDepo, Jake Magee, Coy Letlow and Treyben Letlow - who remain alive in the consolation bracket.
2:30 p.m. Consolation finals
Wrestlers with compete for either third place or fifth, depending on their results from the consolation semifinals.
6:30 p.m. Championship finals
Chad Terry and Mitch Doolin will compete to be Class 2A state champions.
Team standings
1. Wiggins 107.0
2. Paonia 106.5
3. Rocky Ford 88.0
4. Hayden 83.0
5. Ignacio 70.0
Denver — All that's the same is that Chad Terry is nervous.
When the Hayden High School wrestler walked through the tunnel into the Pepsi Center in Denver on Thursday, preparing for his first state tournament, he said he might finish sixth.
When he strolls through that same tunnel today, it will be to wrestle for the 103-pound championship.
"I'm sure I'll be nervous thinking about it," Terry said, moments after advancing Friday to today's 6:30 p.m. title match. "I'm always nervous before a match."
Terry and 160-pound wrestler Mitch Doolin highlighted a tremendous day for the Tigers at the Class 2A state wrestling tournament by winning their semifinal matches Friday night. The pair returns to the mats tonight to wrestle for a state championship.
"It's all coming true," Hayden assistant coach Dallas Robinson said after Doolin won his match and made the finals. "All that these kids have worked for, all they've dreamed about, it's all happening."
Terry and Doolin were among five Tigers who won their quarterfinal matches earlier in the day. That power surge lifted Hayden, previously a long shot in the 2A team points race, into contention.
Terry, Doolin, Coy Letlow at 189 pounds and Treyben Letlow at 215 pounds advanced with pins. Jake Magee made the 152-pound semifinals thanks to a 7-3 decision.
"We just came out red hot this morning," Doolin said. "If we can get a few pins today, we can be right in there."
Doolin will get his first crack at an individual state championship after falling just short in his previous two trips to state. He lost in the semifinals as a sophomore and a junior.
"It was different this time because I knew there was no tomorrow," the senior said.
Thanks to a second-round pin of Stratton's Andy Taylor, he created a tomorrow.
He piled up a 6-2 lead in the first period before outmaneuvering Taylor early in the second. Head coach Ty Zabel and assistant Ty Camilletti shouted "Finish him!" as Taylor's shoulders hovered an inch above the mat.
Moments later, Doolin's pressure did the job.
Terry's victory was equally powerful and even more unlikely. His victim, Adam Ortivez, of La Veta, entered the match undefeated and the favorite to win the 103-pound division.
Ortivez controlled much of the first round and had a 4-2 lead when Terry caught him early in the second and pressed his shoulders flat against the mat.
"All I knew about him was that he was undefeated," Terry said. "This feels pretty cool."
Tigers in 4th
Hayden finished the night with 82 points, fourth in the 2A rankings. The team is five behind Rocky Ford and 19 behind first-place Wiggins.
If the Tigers are to challenge for a team state championship, they'll need help from the four wrestlers still alive in the consolation bracket.
Mitch VeDepo, Coy Letlow, Treyben Letlow and Magee all wrestle starting at 11 a.m. today. They're each one win away from a third-place match.
Both Letlows and Magee fell in attempts to make the championship matches.
Magee lost a close match to Paonia's Lukas Wiggins, a senior who has frustrated Magee throughout the season.
Magee tied it at 2 early, but Wiggins added several more points to win, 5-2.
Coy Letlow lost via technical fall to Tyler Davis, of Wiggins, falling 17-1 after pinning his semifinal opponent in just 39 seconds.
Treyben Letlow lost to 2008 state runner-up Isaiah Churchwell, of Burlington, 4-1. He advanced to the semifinals after a third-period pin of Sedgwick's Reed Jablonski.
"Those guys wrestled tough, and they didn't ever quit," Zabel said. "We would have really liked to have gotten a few more through, but they fought hard."
VeDepo was the only one to advance out of four Tigers who started the day in the consolation bracket.
Pinned in his opening-round match Thursday, he bounced back with a second-round pin to open Friday's action. He then advanced to the consolation semifinals with a 9-7 decision against Seth Gabardi, of Norwood, a wrestler who already had defeated him twice in years past.
"I had the lead, so I was trying to wrestle smarter," VeDepo said. "He has caught me a couple times before, so I tried to stay away from that. I knew I could pin him, and I got it done."
Hayden's other three wrestlers in action Friday were pinned.
Scott Armbruster, a 119-pound sophomore, was pinned early in the third period of his first consolation-bracket match by Brian Strong of Holyoke.
Freshman 125-pounder Nick Williams was pinned midway through the second period by Garrett Gibson, of Crowley County.
Junior Koleman Williams fell from the 145-pound consolation bracket after being pinned by Ethan Pearson, of Ignacio.