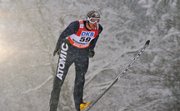 Steamboat Springs — Nordic combined veteran and four-time Olympian Todd Lodwick, of Steamboat Springs, completed one of the most unlikely comebacks in competitive skiing history Friday morning, winning a world championship in the mass start event in Liberec, Czech Republic.
His greatest performance came more than two years after his temporary retirement from the sport and just eight weeks after his return to top international competition. He secured the victory on the final jump of the ski-jumping phase of the competition.
"It's surreal to tell you the truth," Lodwick said during a conference call. "If you were to write a fairy tale book and put everything about my story on the pages, people would say you were kidding, and it was too long."
For Lodwick, 32, Friday's victory represents the culmination of a 15-year quest for a championship medal.
Since his first Olympic appearance in Lillehammer, Norway, in 1994, he has won six World Cups and stood on 20 more World Cup podiums, signifying that on each of those days, he was good enough to win a world championship or Olympic medal. So for Lodwick, there was a sense of something missing, that he had never produced his best effort in a major competition.
"Today was all about the world championships - who skied the fastest and who jumped the furthest," Lodwick said. "I was both, actually, today. That's amazing!"
The sport of Nordic combined requires athletes to compete both in ski jumping and cross-country ski racing, blending the results from two separate competitions to come up with a final result. Traditionally, Nordic combined begins with ski jumping and transitions to cross-country. But the first of four Nordic combined events at these world championships reversed that order.
Lodwick captured first place in Thursday's 10-kilometer cross-country ski race by 5 seconds, then had to wait overnight for the ski jumping after a snowstorm forced its postponement until Friday.
He held onto his lead after the first round of ski jumping, then wrapped up his gold medal with the final jump of the second round. Lodwick needed to soar 96 meters on his second jump to win and landed at the 97.5-meter mark.
Lodwick finished with 276 points, while Tino Edelmann, of Germany, was second with 273.7 points. Jason Lamy Chappuis, of France, had the best jump in the second round to take the bronze with 265.2 points.
"I was really surprised I ski jumped as well as I did," Lodwick said. "I didn't even know I'd made the podium (a top-three finish) until Tino came up and said I'd won."
'Jump far, ski fast'
Lodwick became the second Steamboat Nordic combined skier to win a world championship gold medal. Johnny Spillane won gold in the sprint event in 2003 at Val di Fiemme, Italy, when Lodwick jubilantly hoisted his teammate on his shoulders.
Spillane placed 24th on Friday, and Billy Demong, of Vermontville, N.Y., who for years trained with the Steamboat Springs Winter Sports Club, placed fifth. Demong won a world championship silver medal in 2007 in Sapporo, Japan.
Steitz said Lodwick built the foundation for the others' success.
"This guy really deserves this medal," Steitz said. "I think Johnny and Billy and everyone in the sport would agree that Todd opened up the door and others went through. There were many years when Todd carried this program on his back."
Lodwick's mother, Jeanne, watched her son's performance Friday morning on the Internet at her Steamboat Springs home.
"The whole mantra at our house when he was growing up was: Have fun, jump far, ski fast," Jeanne Lodwick said. "What a great win for him. He's been waiting for this."
Lodwick repeatedly has said the goal of winning world championship and Olympic medals was the reason behind his comeback from retirement. However, asked about his emotions upon finally realizing the goal that eluded him for so many years, Lodwick said it was the support of teammates, coaches, family and his community that meant the most.
"Johnny and Billy were at the bottom of the hill and the first to congratulate me," Lodwick said. "The medal is special, but it means more that (my wife) Sunny and my family and so many other people, your coaches and your teammates are behind you."
With three more Nordic combined events to come in the 2009 world championships, Lodwick and his teammates share the belief that there are more medals to come.
"This is just the first success story to come out of it," he said.