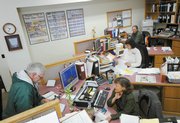 By the numbers
- Voting method tallies
2005: Absentee/mail 358 (5 percent); Early 2,140 (31 percent); Election Day 4,352 (64 percent); Total 6,850
2006: Absentee/mail 1,362 (17 percent); Early 2,486 (32 percent); Election Day 3,984 (50 percent); Total 7,832
2007: Absentee/mail 1,640 (26 percent); Early 2,469 (40 percent); Election Day 2,100 (34 percent); Total 6,209
2008: Absentee/mail 6,126 (46 percent); Early 4,526 (34 percent); Election Day 2,673 (20 percent); Total 13,325
- Mail ballots requested
2004: 1,880
2008: 6,634
Steamboat Springs — Major fee increases, a crackdown on motor vehicle registrations and a mail only election in 2009 are possible under a plan outlined by Routt County Clerk and Recorder Kay Weinland.
Weinland presented her plan for boosting revenues and lessening expenses to the Routt County Board of Commissioners on Tuesday. While Weinland's proposals are some of the first, all county department leaders have been asked to submit such plans as county government looks at a projected $1.3 million shortfall in its 2009 budget. Revenues in 2008 were $1.4 million less than the county budgeted for.
"I really seriously want to talk about a mail-ballot election in '09," said Weinland, who provided estimates showing such a move could save tens of thousands of dollars in costs such as election judges, overtime and printing.
Weinland said allowing mail-in, early and Election Day voting is like running three separate elections.
"With a mail-ballot election, we're basically conducting one election," she said.
Weinland said the substantial amount of money the county has spent on electronic voting machines would not be wasted because they still would be used in partisan elections every two years.
While the commissioners signaled their willingness to adopt some of Weinland's proposals, Commissioner Nancy Stahoviak said further public hearings are warranted before a decision is made on an all mail election. Stahoviak also asked Weinland to reconvene an election committee of residents that was first formed to improve county elections after frustrated voters waited hours to cast a ballot in 2006. The committee has participated in subsequent discussions about election practices in Routt County.
Some of the fee increases suggested by Weinland include the creation of a $10 late fee on vehicle registrations and renewals and an increase from $5 to $10 for the Motor Vehicle Department's vehicle identification number inspections. The cost of a new liquor license would increase from $500 to $750, temporary permits would increase from $100 to $200 and special event permits would increase from $25 to $100 under a liquor licensing fee schedule suggested by Weinland.
Countywide, the commissioners will consider adopting a uniform increased fee for returned checks. The amount Weinland put forth was $25. Weinland also hopes to work with local law enforcement agencies to step up enforcement of vehicle and machinery registrations. Another suggestion was to disallow access to images of documents such as tax liens and death certificates on the Clerk and Recorder's Web site except for users who pay a monthly subscription fee.
"I would agree that people need to pay for that convenience," Stahoviak said.
The county is taking a multi-pronged approach to resolving its budget issues for this year and as it prepares a 2010 budget.
"The going is getting tough," said Finance Director Dan Strnad, who said the county's sales tax collections fell 8 percent in December.
The county already has instituted a hiring freeze and soon will engage in an exercise to create a prioritized list of county services that will help guide cuts. In its 2010 budget, the county is considering steps including not allowing overtime, forcing unpaid vacations, re-evaluating medical benefits, sharing motor pool vehicles between departments, delaying capital projects and equipment replacements, layoffs and program elimination.