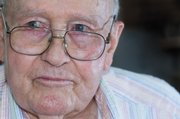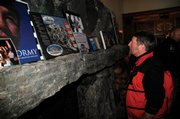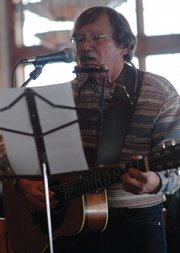 Steamboat Springs — A mournful song set the tone at Jim Temple's memorial service Sunday.
The Steamboat Springs legend, who founded and helped build what would become the Steamboat Ski Area, loved "On Top of Old Smokey," his son Jeff Temple said.
"It was misnamed," Jeff Temple joked. "It was supposed to be 'On Top of Old Stormy'" - for Steamboat's Storm Mountain, later renamed Mount Werner.
Greg Scott launched into the ballad with his guitar and harmonica, and eyes across the room started to dampen.
Friends and family members shared tales about the skier and rancher who formed Storm Mountain Ski Corp. in January 1958. A crowd gathered to honor Temple at the lodge in the Storm Mountain Ranch subdivision east of Steamboat.
Temple died Feb. 9 at age 82.
If he could pick one word to describe his friend, Jim "Moose" Barrows would go with "driver." Temple drove the creation of the ski area, buying the necessary land, supervising the clearing of trails and even driving vehicles loaded with skiers to the top.
"He understood there were real possibilities for this mountain," said Barrows, who knew Temple for more than 50 years. Barrows, an Olympian, is in the Colorado Ski Hall of Fame with Temple.
Barrows also read a message from Andy Wirth, who worked for Steamboat Ski and Resort Corp. before becoming Intrawest's chief marketing officer.
"Jim's vision of what the mountain could be has allowed so many people to call this valley home," Barrows read.
That was one of the day's themes: Temple made it possible for most of us to be here.
Billy Kidd, an Olympian and director of skiing at Steamboat Ski Area, echoed that. He took the microphone after Barrows, first kissing Temple's wife, Audrey, on the cheek.
"What a contribution he made to this town, this area and skiing," Kidd said. "He made the lives better for so many people who came here."
Temple didn't do it alone, Kidd said. He worked with Ute American Indians, John Fetcher, Bud Werner and others. Fetcher died Feb. 6 at age 97. Kidd noted the coincidence.
"It seemed like Jim and John said, 'Our work here is done,'" he said.
That work was substantial, the speakers noted. Temple and his crew started bulldozing trails in summer 1958, and the ski area opened in 1960. Temple was a visionary, Wirth wrote in his message. Others have recognized that vision, Kidd said.
"Jim has showed the world that Steamboat has some of the best skiing in the American West," he said.
Jeff Temple wrote his memories of his father, handing them off to a cousin to read because he didn't think he could get through them. Temple recounted the ways his father and mother sacrificed so their children could ski. Jim Temple drove them to and from Vail each Saturday and Sunday to ski with a club there.
But Jim Temple cared about more than just his own children.
"He said he would never forget seeing the first kid ski down Headwall after he opened the Poma lift," Jeff Temple wrote.
Those who attended the service got a rundown of Temple's accomplishments from speakers and from a movie, "Stormy." The film tells the tale of the ski area and Temple. Jay Kinghorn and Jeff Temple made it.
Kinghorn recalled interviewing Jim Temple at length. Temple sometimes arrived at Kinghorn's office before the filmmaker did.
"In Jim's passing, we've not only lost a good friend but also a window into the past - not only of the ski area but also American ranching," Kinghorn said.
Temple was strict with the film, requiring dead-on accuracy, Kinghorn said after the memorial service. Temple had taken video and still shots of the creation of the ski area, which were used in the film.
But the rancher symbolized more than skiing in Steamboat, Kinghorn said.
"The Western image the town is trying to embrace, he was the real deal," he said.
Kidd directed a few of his remarks at his lost friend.
"Jim, you have our respect and admiration and appreciation," Kidd said. "We'll remember you when we look at the Steamboat Ski Area, Mount Werner and Storm Mountain."
He recalled Temple's pure joy for the sport of skiing. And Kidd thinks he knows where Temple is now.
"He's gone to that place where every day is like skiing in chest-deep Champagne Powder," he said.