Hayden wrestling, 2008-09
9 a.m. Jan. 17 at Rangely Tournament
9 a.m. Jan. 24 at West Grand, League Tournament
6 p.m. Jan. 31 at Meeker
9 a.m. Feb. 7 at Eaton Tournament
Feb. 13 to 14 at Regional Tournament
Feb. 19 to 21 at State Tournament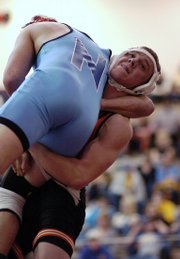 Palisade — Three Hayden High School wrestling team members set themselves up to be top seeds at next weekend's Class 2A state championship wrestling tournament in Denver.
Nearly the whole team earned a trip to the massive tournament, however.
Hayden won three weight divisions and qualified nine wrestlers to the state meet.
"I was really thinking we had a good shot to take six kids," Hayden coach Ty Zabel said Saturday. "Coming out with nine is great. I'm happy - really happy."
The flood of Hayden qualifiers lifted the squad to a third-place finish in the 11-team meet.
Chad Terry at 103 pounds, Mitch Doolin at 160 and Coy Letlow at 189 all won their divisions.
Treyben Letlow, Jake Mcgee, Mitch VeDepo, Scott Armbruster, Koleman Williams and Nick Williams will join them at the state tournament, which starts Thursday at the Pepsi Center in Denver.
It was a strong showing Friday night and early Saturday that set the stage for Hayden's big day.
The Tigers put four wrestlers in the finals and five in the consolation bracket finals, wrestling for third place.
Terry defeated Lauryn Bruggink, of Soroco, with a
first-round pin, wrapping up a strong showing at his first regional tournament.
"I was a little nervous," he said. "It feels pretty good to be a freshman and be going to state."
Doolin advanced to the quarterfinals of the tournament with a bye, then he made the finals with a quick pin. He had to hang on long and hard to outlast Norwood's Ty Spangler in the finals.
Doolin won with a 7-4 decision.
"He was tuned up," Zabel said. "He really wrestled well. Coy was tuned up, too. Both of them were ready to go and got the job done."
Letlow earned a second-period pin. He was down in points after an early takedown, but he rallied, took the lead, then ended the match. He caught Justin Guynes, of Dove Creek, between his legs with a scissor move to earn the pin.
"That's what I like to do," Letlow said about the scissor move pin. "I definitely practiced a lot working on my feet before the tournament, and it helped a bunch. I got a lot more takedowns."
Treyben Letlow lost in his title bid, falling at 215 pounds to the undefeated Stryker Lane, of Norwood.
VeDepo finished third at 130 pounds despite wrestling with an injured elbow. One arm was almost entirely covered with a protective pad, and it lacked the strength he's accustomed do. He still managed to win his final match, earning a 4-3 decision against Paonia's Adrian Lopez.
Nick Williams was fourth at 125 pounds, and Koleman Williams was fourth at 145.
Senior Jake Magee was fourth at 152.
It was all enough to generate 152.5 points, behind second-place Rangely's 186 and regional champion Paonia's 231.