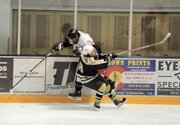 Steamboat Springs Hockey, 2008-09
Dec. 5, Steamboat 3, Aspen 2 at King of the Mountain Tournament; (1-0)
Dec. 6, Steamboat 4, Battle Mountain 0 at King of the Mountain Tournament; (2-0)
Dec. 6, Steamboat 8, Summit 4 at King of the Mountain Tournament; (3-0)
Dec. 12, Steamboat 4, Standley Lake 2; (4-0)
Dec. 13, Steamboat 6, Mullen 1 at Colorado Academy; (5-0)
Dec. 19, Steamboat 3, Chatfield 2; (6-0)
Dec. 20, Lewis-Palmer 4, Steamboat 0; (6-1)
Jan. 9, Pueblo County 3, Steamboat 1; (6-2)
Jan. 10, Steamboat 4, Rampart 1; (7-2)
Jan. 16, Steamboat 4, Doherty 1; (8-2)
Jan. 19, Battle Mountain 5, Steamboat 2; (8-3)
Jan. 23, Steamboat 6, Liberty 0;(9-3)
Jan. 24, Steamboat 3, Fountain Valley 2;(10-3)
Jan. 30, Steamboat 5, Air Academy 2;(11-3)
Jan. 31, Steamboat 6, Valor Christian 0;(12-3)
Feb. 6, Cheyenne Mountain 3, Steamboat 2; (12-4)
Feb. 7, Steamboat 7, Coronado 2;(13-4)
Feb. 13, Steamboat 4, Pine Creek 0;(14-4)
Feb. 14, Steamboat 2, Palmer 0;(15-4)
Feb. 20 state playoffs begin, TBA
Steamboat Springs — No more late season collapses, no more going into the playoffs on a down note and no more questions about the effort.
The Steamboat Springs High School hockey team came out Saturday against Palmer and put any questions of doubt about the team to rest, playing its most impressive game of the year, a 2-0 win.
"I think this is what we've been telling our guys all year," Steamboat coach Jeff Ruff said. "Our guys have been showing glimpses of being able to play at this level all season. We know that, and we believe they can play at this level every game. What we wanted to do was come out and set the tempo."
The win also means Steamboat (15-4 overall) will finish at least fourth in the Peak Conference and more than likely garner a top-8 seed when the state playoff bracket is released today. Depending on the seeding, Steamboat will play at one of four sites - Aspen, two in Denver or Colorado Springs - next weekend.
Although the Sailors wait to see whom they play, there might not be too many teams who will be excited to see them after Saturday's performance.
Palmer, who came in second in the conference, could muster little offensive attack against a wired up Steamboat team.
Sailors sophomore Jake Bearss scored what would be the game-winner just six minutes into the contest. With a man advantage, Bearss got the puck in the neutral zone, skated into the Terrors zone and blasted a shot from between the circles and over Palmer goalie Dylan Slizewski's glove hand.
From there, the Sailors kept the shifts short and the pressure on.
After a scoreless second period, Steamboat had ample opportunities to get the insurance goal to put the game away.
But the Sailors kept coming up empty handed, and the Terrors had a 2-on-1 break - their best chance of the night - with less than a minute remaining in the contest. Junior goalie Matt Dawes made a sprawling, game saving stop with 42 seconds remaining.
"It was going all in," Dawes said about his team's effort. "We need to be on a roll going into the playoffs. We're very dangerous. If we go all in again, we'll be tough to beat. We raised the bar, and we need to stay up there."
Play got chippy in the third period with multiple scrums breaking out and two Palmer players getting the gate.
The final one left Steamboat on the power play again, where senior Charlie Smith skated in and lasered a shot over Slizewski's stick hand to give Steamboat a 2-0 lead with 30 seconds remaining.
"This is what we've been expecting to see," Ruff said. "We've seen it in different games, but this is what we expect heading into the playoffs. This is playoff hockey. : I think this is a very dangerous team right now. The confidence is very high. These boys, right now, feel they compete with and beat any team."
Playoff seeds will be released mid-day today. Check www.chsaa.org for complete brackets.