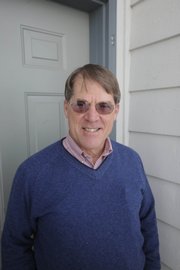 Keith Giglio
Age: 63
Occupation: Owner/principal of the Monterey Bay Consulting Group
Place of birth: Morristown, N.J.
Q. When did you move to Routt County, and what brought you here?
A. 2004. I came to serve as the executive director of the Rocky Mountain division of the Professional Ski & Snowboard Instructors Association.
Q. Describe your morning routine.
A. At 4 a.m., I get up to walk my dogs and spend 20 to 40 minutes in undisturbed prayer and meditation.
Q. Has a book ever changed your life? What was it and why?
A. "The Prophet," by Kahlil Gibran. This book afforded an opportunity to change the way I look at who I am and what I do.
Q. What's the best piece of advice you've ever been given?
A. "Go get a client and then come back to talk with me about becoming a consultant." I wanted to become a management consultant and in an early interview the principal of a Sacramento firm told me to go find a client before he would talk with me about becoming a consultant. It was priceless.
Q. What three things would you want people to know about you?
A. 1) I do my best to try to be helpful. 2) To the extent I can, I will encourage others to seek their own success. 3) I do what I can to make room for others in my life.
Q. Do you collect anything?
A. Old economics and business books, mostly from the mid-1800s through 1950.
Q. In the Meatloaf song, "I'd do anything for love, but I won't do that," what is that?
A. Compromise my integrity.
Q. What was your first job?
A. Kennel assistant for a local veterinarian.
Q. If you could go back in time, to what event or time period would you go?
A. I think it would have been very exciting to have lived in the U.S. during the second half of the 19th century and into the 20th.
Favorites
Book: "Cold Mountain"
Song: All music
Color: Bright
Food: Mexican
Vacation spot: Saba
Recreational activity: Motorcycle road racing and Alpine ski racing