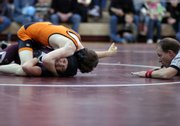 Soroco wrestling, 2008-09
Dec. 19 at Hayden
Dec. 20 at West Grand
9 a.m. Jan. 10 at Paonia
Jan. 17 at Rangely
Jan. 24 at League Tournament at West Grand
Feb. 13-14 at Regional at Grand Junction
Feb. 19-20 at State Denver
Palisade — Even if it wasn't official for 12 more hours, it was apparent Friday evening that Soroco freshman Lauryn Bruggink would qualify for this weekend's Class 2A state wrestling tournament.
Although she could become the first girl to win a match at that tournament, she was overcome with only one emotion upon realizing she'd likely make the field.
"Nausea," she said Saturday afternoon, having just secured second place in the regional wrestling tournament, which ran Friday and Saturday in Palisade.
Turns out, a stomach virus that left her sick all night Friday night couldn't slow Bruggink. Neither could most of the wrestlers in the 103-pound field.
The only thing that gave her any trouble was Hayden's Chad Terry, who pinned Bruggink to win the regional championship.
"She ran on guts today and last night," her father and Soroco assistant coach Travis Bruggink said. "She wrestled with her heart."
Terry pinned Bruggink 1 minute, 18 seconds into the first period, but she did manage a highlight. She took an early 2-0 lead, wrapping Terry up to register a takedown.
He responded with one of his own, and the score was tied at two when he maneuvered her for the pin.
"I'm pretty good with my tilt," Bruggink said about the move that netted her two points. "I sucked his arm in and went for it and kept his
arm in. But he got out of that, hit a switch, and I left my arm back."
Bruggink said she didn't feel on top of her game in her one match Friday night or her Saturday morning semifinal. She still managed to cruise through both.
She pinned Chance Peters, of Rangely, with 40 seconds remaining in the third period, then she dispatched Alex Telck, of North Park, midway through the second period.
The victory against Telck wrapped up her status as a state qualifier and cast her into the championship match.
The thrill of advancing was barely enough to stave off the lingering sickness.
"I didn't feel good at all," Bruggink said. "To be honest, it took almost all of my energy to win those matches."
Bruggink was Soroco's only qualifier, but several wrestlers just missed.
Freshman Nick Ovard won his first match of the season Saturday afternoon to secure fifth place in the 140-pound consolation bracket.
Only the top four from each weight class qualified for state, but Ovard got to wrestle fourth-place finisher Chase Hill, of West Grand.
He quickly rolled Hill to his back and racked up a 5-0 lead. He couldn't sustain the momentum, however, and eventually was pinned.
Sophomore David Strait lost to Hayden's Koleman Williams before beating Dustin Winner, of Norwood, to secure fifth place. Since Williams lost in a bid for third place, Strait didn't get a second chance to punch a ticket to Denver.
Soroco 152-pounder Ben Strait finished sixth in his weight class.
"We had a good season," Soroco coach Jay Whaley said. "Everyone's goal was to get to state, and a lot of them didn't accomplish that. They still got some good things out of this. A lot of our young guys wrestled well."