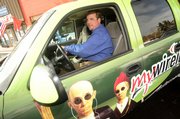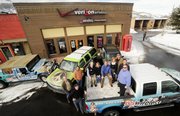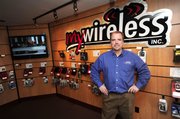 Steamboat Springs — Now's a darn good time to be selling cell phones, Andy Brown said.
The founder, president and chief executive of MyWireless said his Steamboat Springs-based company was nearing the $20 million mark in revenue. The 5-year-old business just opened its 22nd store, in Longmont. The success is because when people cut back, they don't cut their cell service, Brown said.
Cell phones have become people's music players, computers, cameras and maps, Brown said. That makes them somewhat safe from recessions, he said.
"In a down economy, people can take a lot of their bills and consolidate them in their cellular phones," he said.
Also, people who want to splurge can spend $50 to $500 and still walk away with a luxury item, Brown said.
On Wall Street, stocks have been steady for some companies that sell cell phones.
MyWireless stores deal only with Verizon products. Verizon Communications stock closed at $29.56 a share Friday. It was down 30 cents, or 1 percent, but within its range of the past year: $23.07 to $39.94.
AT&T, which provides service for Apple's iPhone, closed at $25.32 a share. It was down 7 cents, or 0.3 percent. AT&T stock price has ranged from $17.14 to $25.99 throughout the past year.
In Steamboat, MyWireless has little competition. Wyoming-based Union Wireless also sells cell service in the area. Rob Elwood, of Union, did not return a call seeking comments. Jackson's Office Supply switched from selling Verizon phones to selling pay-as-you-go Tracfones. Those are different breeds, store employees said.
MyWireless employs nearly 20 people in Steamboat at its two stores and its headquarters.
"In a tough economy, we're doing just as well as in a booming economy, and we're really happy with that," Brown said.
Seeing cellular coming
Brown landed in Steamboat in February 1991 with ambitions of being a ski bum. He did so that winter, but by about mid-summer, he stumbled into the cellular world. Brown started Cameron Communications that year.
Cameron grew to have 17 distribution centers, and Brown sold the company in spring 2001 to spend time with his family. But he couldn't stay away, starting MyWireless in fall 2003.
The 23rd store is scheduled to open in a couple of months in Fort Collins. A new store opens about every three months, Brown said.
"We're in an acquisition mode, and we're in an expansion mode," Brown said. "I wouldn't be surprised if we welcomed our 30th store in 2009."
Brown focuses on keeping his company fun. MyWireless has a 35-vehicle fleet bearing the company logo and wild illustrations: airplanes, a spaceman, tie-dye hippie symbols. The Hummer H1 with illustrations of Steamboat's seasons still sits in corporate headquarters, however. The manager of the month used to get the Hummer.
"But they keep wrecking it," Brown said with a grin.
Those constant crashes led to a "Hummer Bummer" trophy, he said.
"If someone messes up in the company, does something just dumb, we put them on the 'Hummer Bummer' trophy, when another company would severely reprimand them," Brown said.
Scott Schnackenberg, who has worked with Brown for 10 years, gets his own company ride. The retro Volkswagen has a woman drawn on one side and a Ferrari on the other.
Schnackenberg seems to buy in to Brown's fun policy. His job is to test new technology to help decide whether MyWireless should sell it.
"He's kind of like Q - James Bond Q," Brown said.
Schnackenberg showed off a Global Positioning System feature. The device speaks directions so the driver doesn't need to look at it.
"This will give you routes around traffic congestion," Schnackenberg said. "It'll give you gas stations with the cheapest gas."
His phone also allows him to access numbers easily.
"I haven't looked at a phonebook in I don't know how long," Schnackenberg said.
Low-key, kind of
Brown said he tries to stay below the radar, growing his private company quietly. MyWireless provides service and privacy to National Hockey League and National Football League customers, he said.
In fact, MyWireless just signed a deal to be the preferred provider for the NHL Players Association and sponsors young athletes.
"We are this small, little podunk company based out of Steamboat Springs that nobody knows about," he said.
Most of the stores are in Colorado, though MyWireless has Wyoming and New Mexico locations. Brown tries to keep good employees by moving with them. An administrative branch in Texas employs five people. One executive is based in Phoenix.
Brown's pleased with where the company has been - and where it's going.
"I don't see the cellular bubble popping," Brown said. "I don't think it's a bubble. I think it's what telephones are."