Lake Village
A two-part series about the failing Lake Village subdivision in Hayden
- Today: Bankruptcies and lawsuits involving Lake Village have left lot owners sitting on empty land, waiting for answers
- Feb. 22: A look at what went wrong with Lake Village and whether it could have been avoided.
Who's involved
- Mountain Adventure Property Investments (MAPI): The partnership that developed Lake Village. It consists of two local and two out-of-state companies and is in Chapter 7 bankruptcy.
- 4-S Development: Ron Sills' company, which had offices in Hayden and is a main partner in MAPI. 4-S has filed for Chapter 11 bankruptcy.
- Grassy Creek Holding Co.: A Steamboat Springs company run by Roger Johnson. Grassy Creek is a main partner in MAPI.
- Oasis Development: An Oklahoma subsidiary of FSB Bancorp. and a partner in MAPI.
- Robinson and Sons: An Oregon company that's a partner in MAPI. It's separate from Robinson Construction but is run by members of the same family.
- Robinson Construction: An Oregon construction company that worked on Lake Village, Hidden Springs Ranch and The Cliffs at Mount Harris. Robinson filed liens saying it hadn't been paid for work worth at least $1.5 million. The company and Hayden are wrangling over bond money.
- RN Robinson & Son: A Hayden construction and excavation company started in 1944 by Bobby Robinson. Dallas and his father, Bob, run the company now. RN Robinson is not connected with and never has worked on the Lake Village project. Dallas Robinson bought a lot there, hoping to build a home.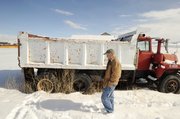 Hayden — Dallas Robinson was supposed to be settled into a house on his Lake Village lot by now.
He bought nearly a third of an acre in the Hayden subdivision in fall 2006, calculating that he could build his house in about a year. Instead, the spot's only resident is a rusted Mack truck, planted in snow and weeds, abandoned by an unknown person after Robinson bought Lot 44.
Lake Village sits unfinished except for five empty model homes. The developers have been mired in legal and financial problems since a contractor filed mechanic's liens in September 2007. Their Chapter 11 bankruptcy became a Chapter 7. A Denver trustee is charged with liquidating assets and paying creditors.
Robinson and other lot owners don't know where that will leave them. That's frustrating for Robinson, who said he was detail-oriented to the point of obsession. He peppers his comments with "to be honest with you" and "I'm not going to lie."
Robinson squinted in the sun at his lot late Thursday morning.
"At closing, I asked all the right questions - I really did," Robinson said. "I was told I didn't have to worry about it."
He spoke with real estate agents, a lawyer, town officials and developers. Everyone assured him that his investment would be safe. He picked out his lot - next to the model homes, so the landscaping would be done quickly. He got title insurance and a loan, buying Lot 44 for about $57,000. Robinson now pays $550 to $600 a month for land he can't use.
Robinson's family has been in Hayden for generations. His grandparents homesteaded there, and his grandmother was a member of the Dunckley clan. His grandfather, Bobby Robinson, started RN Robinson & Son in 1944. His father, Bob Robinson, had Dallas regularly showing up to work by age 11.
It upsets him to see development trouble in the town - his town.
"I will be here," Robinson said. "My children will probably be here, if I have them."
Complexity, confusion
Lake Villages was meant to be part of a 1,040-acre project called the Villages at Hayden. Developers planned 86 single-family residences and six townhomes on the 40 acres off Routt County Road 53 in southern Hayden.
The development group, Mountain Adventure Property Investments, is a partnership of 4-S Development, Grassy Creek Holding Co., Oregon-based Robinson and Sons and FSB Bancorp. of Oklahoma. Local developers Ron Sills and Roger Johnson run 4-S and Grassy Creek, respectively.
Oregon-based Robinson Construction, which worked on Lake Village, filed $2.3 million in liens for work there and at Hidden Springs Ranch in September 2007. The lawsuit names 43 defendants, including 4-S, Mountain Adventure Property Investments, the town of Hayden and lot owners such as Dallas Robinson. Mountain Adventure has said the liens were unfounded.
Robinson Construction is separate from Robinson & Son, said Kirk Moisan, a project executive for Robinson Construction. Members of the same family run both, he said. The parties are trying to cooperate with Hayden and one another, he said.
"It's shockingly complicated," he said. "It's been an amazingly complicated subject."
Mountain Adventure Property Investments' bankruptcy has brought more confusion. The company filed for Chapter 11 bankruptcy in January 2008. It was converted to Chapter 7 bankruptcy Oct. 3.
Chapter 11 would have allowed MAPI to reorganize. Chapter 7 provides for liquidation, or "the sale of a debtor's nonexempt property and the distribution of the proceeds to creditors," the U.S. courts Web site states.
Glen Anstine, the Chapter 7 trustee handling the bankruptcy from Denver, said it was his job to sell whatever assets he can and pay creditors. His job is to protect the unsecured creditors, including people who own lots.
"The law requires that the trustee act expeditiously, but there's really no definition of what that is," Anstine said. "In this case, expeditiously could be a long time. I'm hopeful to get something moving here, but I'm not optimistic that there's going to be a lot for the unsecured creditors. When it was in Chapter 11, there were substantial expenses incurred."
Anstine and Moisan were optimistic that their cases could be resolved.
"There's a lot of people and entities trying to work this out," Moisan said.
Not satisfied
Dallas Robinson and his fellow lot owners aren't comforted. They joined MAPI in the lien lawsuit because the company promised to handle its legal services, which most lot owners couldn't afford, Robinson said.
Dan Faucett, another Hayden resident and lot owner, said the process has been a maze.
"They actually offered to pay our legal fees to straighten the mess out and did hire a lawyer, and then we were handed off to another lawyer because they thought there would be conflicts," Faucett said. "Then in November/December, we received a letter from the lawyer saying Ron Sills and Roger Johnson had declared bankruptcy, and they weren't getting paid, so we were on our own."
Faucett doesn't blame the lawyer, Christine Jobin, of Denver. Jobin said attorneys for Mountain Adventure brought her in to represent the lot owners, but she never became involved because of the bankruptcy. The firm of Pendleton, Friedberg, Wilson and Hennessey brought her in, Jobin said.
L. Jay Labe of that firm said his practice had little involvement.
Jessop & Co., a Denver firm that specializes in commercial bankruptcy, has filed most of Mountain Adventure's court documents. Lawyers at the firm did not respond to a phone call or an e-mail request for comment last week.
Those lawyers also did not respond to a request for Sills' and Johnson's contact information.
Sills and Johnson were unreachable for this story. The phones at Sills' Hayden 4-S office and Johnson's Yampa Valley Homes and Land office in Steamboat Springs have been disconnected. Sills' cell phone number is not in service, and the person who answered at a number listed for him said she did not speak English. A woman at a Steamboat address listed for Sills said he did not live at the house. Johnson did not respond to a business card and a request for a phone call left at his home.
Johnson's office was locked last week, with a real-estate agent's sign out front. A truck buried in a couple of feet of snow sat in the parking lot.
Local concerns
Dallas Robinson's name and company are worth a thing or two in Hayden. When Robinson backed a resident's claim in December that a town mistake led to a sewage backup, the Town Board of Trustees agreed to partly reimburse her. Robinson can be taken at his word, board members noted before making their decision.
But his name hasn't done him any favors in this case.
Local lot owners were upset to receive notices that liens were filed against them by Robinson Construction. It's been a headache to explain that it isn't him - and that he's being sued, too, Robinson said.
"It's a scary deal, especially for us individuals that could barely afford it anyway, and there are a number of us that are this way," he said.
Robinson Construction started work in June 2006, Moisan said. He attended the auction of sites in November that year. In August 2007, Mountain Adventures told the company to stop work, he said. The company had agreed to pay Robinson Construction $5 million for work at Lake Village, Hidden Springs and Mount Harris at the Cliffs, he said.
"They missed that payment," Moisan said.
The town of Hayden has been wrestling with the problems. Town Manager Russ Martin was one of the people who assured Robinson his investment was wise. He had no reason to think it wasn't. A letter of credit worth $502,000 and bonds worth more than $1.3 million were in place, Martin said.
The amount went beyond what was necessary, he said.
"What I told people was based on things that were put in place to secure the infrastructure's completion, and even in a case of bankruptcy, at least the infrastructure was ready," Martin said.
Except, it appears, the infrastructure wasn't.
Asphalt crumpled around manholes. The roads require a lift to be level with the curb. The roads weren't safe to drive on, and the town decided to call the letter of credit and the bonds. Robinson Construction fixed some of the manhole problems late last year.
The town received the $502,000 from Vectra Bank for the letter of credit, which it is using for legal fees. Robinson Construction has challenged Hayden's attempt to get the $1.3 million in bond money. Moisan said his company offered to work on the infrastructure at Lake Village in exchange for the $502,000.
Robinson Construction was supposed to have done that work anyway, Martin said.
"The scope of work that he's alluding to that he'll do does not complete the project and does not complete the off-site improvements," he said. Those are estimated to cost just more than $1 million, Martin said. None of that will come from taxpayers, he pledged.
How to win
The people tangled in Lake Village have different ideas about the ideal resolution.
"The best possible outcome is for somebody to write us a check," Moisan said. "Our intent has just been to get paid for our work."
But if 4-S and Mountain Adventure Property Investments are bankrupt, who will pay?
"I don't have an answer for that," Moisan said. "I really wish I did. We don't know, either."
The town wants the work completed, Martin said.
For Hayden, the best outcome would be "that the infrastructure gets put in as promised by the development, and I say the development because we don't know who the developer is going to be or how that gets done," Martin said. "The ultimate is to move forward in a very quick manner and get houses and lots that are affordable to move into - the sooner the better."
The lot owners have a few ideas, but some harbor few hopes. Dallas Robinson, who bought his grandparents' house after the issues arose, said he'd like Robinson Construction to drop the lot owners from the lien lawsuit.
"The best possible outcome would be for them to exclude those people who originally bought lots out there," he said.
Everyone involved seemed tired of dealing with and paying for the problems.
"We're hoping for this thing to be over quickly," Robinson said, "and hopefully it doesn't end up costing us more."