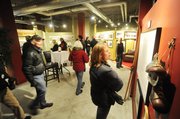 Green Courte Partners, Ski Town Lifestyle Properties dedicate discovery center
Green Courte Partners and Ski Town Lifestyle Properties are seeking to leverage their brand in downtown Steamboat Springs with an educational version of a condominium sales center in Howelsen Place, which they prefer to describe as a discovery center.
They opened the discovery center at the corner of Lincoln Avenue and Seventh Street during Winter Carnival last week with the dedication of sculptor Barbara Robison's life-sized bronze of carnival founder Carl Howelsen. Howelsen's son, Leif Hovelsen, was in attendance.
Green Courte is developing and selling three downtown mixed commercial/residential projects. Ski Town Lifestyle has a staff of five salaried employees led by Managing Broker Beth Postemski.
Upon arriving at the discovery center, one's first impression is of a cross between an urban loft living room and a historical museum.
The effect isn't coincidental.
"We wanted a place where people can come in and learn about Steamboat, the history and the lifestyle," broker Joe Cashen said.
The discovery center is based on the catch phrase, "Choose your lifestyle." The intent is to sell prospective buyers on the Steamboat lifestyle rather than emphasizing the attributes of the condominiums at Howelsen Place and Alpen Glow, Cashen said.
The discovery center includes contemporary color photographs by several Steamboat photographers, a living room and even a children's play area. However, the centerpiece that greets arrivals is a historical display that includes period photos of Carl Howelsen posing with members of the Ladies Recreation Club, Henry Hall standing on the shoulders of cheering townsfolk after setting a new ski jumping record in 1917, and original programs from the 1938 and 1940 Winter Carnivals.
Mark Scully, who oversees Colorado operations for Green Courte Partners, said Tread of Pioneers Museum Director Candace Lombardo, with colleagues Jayne Hill and Katie Peck, were a great help in putting together the historic display.
Lombardo said the museum staff seized on the opportunity to bring public attention last week to Steamboat's ski history.
"Led by Howelsen Place, the community did a lot to ensure Leif (Hovelsen) felt our appreciation," Lombardo said. "Not every downtown could do that. It all started with Jim Cook (who led development of Howelsen Place through the city approval process and construction phase)."
Officials from the Chicago-based real estate investment firm that has assumed the leadership role in three prominent downtown Steamboat Springs redevelopment projects thinks it is well-positioned to weather the recession.
Green Courte Partners has obtained its certificate of occupancy for one of two buildings in the new Howelsen Place mixed commercial/residential project at Seventh Street and Lincoln Avenue, and it anticipates receiving the second shortly, Mark Scully said. A number of closings soon are to follow.
"The business model for Green Courte is that it's a private equity real estate investment firm that raises funds from institutional investor and very high net worth individuals," Scully said. "We have two funds, Green Courte Capital Partners 1 with $120 million in equity, and Green Courte Capital Partners 2 with $230 million in equity. You leverage that with debt, and you get $700 million in real estate investment."
Scully, who formed a strategic partnership with Green Courte last fall, is overseeing all of the company's Colorado investments and selectively adding to the portfolio in Boulder, Denver and Steamboat.
Within the past year, he has added commercial blocks on College Avenue in Fort Collins. In Boulder, Scully said, Green Courte is developing student housing above commercial spaces.
Green Courte has been involved in the financing of the Steamboat projects from the early stages, but Scully's assumption of the responsibility for day-to-day operations of the sales team signals the end of the involvement of Steamboat developer/Realtor Jim Cook, of Colorado Group Realty.
Cook continues to have a financial stake in the projects, Scully said, adding that "difficult financial times can lead to frayed business relationships."
"Jim deserves the credit for the passion for downtown that has created the improvements at the corners of Sixth and Lincoln and Seventh and Lincoln," Scully said. "That passion deserves to be recognized."
Cook declined to comment for this article.
In addition to Howelsen Place, Green Courte has completed and leased all of the commercial space in Alpen Glow, a mixed-use project at the corner of Sixth Street and Lincoln Avenue. The company has yet to go vertical on a third, larger project, River Walk, at the east end of Yampa Street along the Yampa River.
"We remain very excited about River Walk," Scully said.
Unlike some real estate investment funds that hold out the potential for 20 to 25 percent returns to investors after a three- to five-year hold, Scully said Green Courte works with investors who are willing to shoot for 15 to 20 percent returns during a span of 10 to 12 years.
"It's a credit to (Green Courte) Chairman Randy Rowe," Scully said. "This is his third company that he's created, working with the same investors he's worked with his whole life."
Scully and Rowe, both of whom are completing homes in Steamboat, were linked early in their careers when they worked for legendary Chicago development figure Sam Zell. Rowe was CEO of Equity Office Properties Trust where Scully was a senior vice president. At Equity Office, Scully led a team of 140 real estate agents involved primarily in leasing large office buildings, including two in the San Francisco Bay Area.
Green Courte's business is divided primarily among three divisions, manufactured housing communities, urban parking structure developments and urban mixed-use infill like the Steamboat projects.
"Randy Rowe is a big believer in urban mixed use. They're part of a global trend toward downtowns," Scully said. "Whether it's Chicago or D.C., it's happening all over the place."
- To reach Tom Ross, call 871-4205
or e-mail tross@steamboatpilot.com