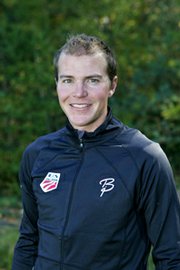 Bill Demong finished fifth Saturday during a Nordic combined World Cup in Germany, just missing the podium in a four-skier sprint for the number three spot. Finland's Anssi Koivuranta won the competition to retain the lead in the World Cup standings.
"It was a little tough. It was the first comp back, and it was OK, obviously, to get fifth. But, generally speaking, it wasn't a very good jump, and it wasn't a fantastic race," Demong said. "We're kind of getting back into the swing of it."
The venue for the World Cup experienced rough weather, making it necessary to use a provisional jump for the men as opposed to an in-competition jump.
"It was my second jump in a week and was 24 hours after I got off a plane, so it was OK; I'll take it," Demong said. "But, I am definitely looking forward to a better race tomorrow."
"It was a good day for Bill, but it definitely wasn't his best race," U.S. Nordic Combined Head coach Dave Jarrett added. "He was in third for most of the race and did a lion's share of the work, but they were just stronger than he was, so he ended up fifth."
Following Demong in the U.S. men's results was Eric Camerota who, according to Jarrett, made great progress Saturday.
"That marked the first World Cup points for him this year," Jarrett said. "He did it now for the first time, and it's a big confidence builder going in to Worlds."
Johnny Spillane did start the race, but upon not feeling well enough to compete, decided to conserve his energy for the 2009 FIS World Championships, which begin Wednesday in Liberec, Czech Republic.
"I think we're on a good path for jumping, and especially for cross country. We had a good block of training, and it's time to let all that take effect," Demong said.
St. Onge wins in Moscow
The U.S. Ski Team's Ryan St. Onge crushed his final quadruple-twisting jump to win a FIS World Cup freestyle aerials event in Moscow in front of the sport's largest crowd ever.
"I've spent a lot of time over the last couple years working towards a goal, and these two wins that I have had this season confirm that I am either there or getting real close," St. Onge said. "When the results finally come and it's better than you expected, it's a pretty gratifying feeling."
According to St. Onge, while the jumps may have been incredible, the event itself was spectacular.
"I looked around, and there were 15,000 people in the parking lot for the qualifying jump and just streams of people still walking in," St. Onge said. "I was wondering with the bad weather and everything if it was going to be a great event, but the weather got better, people showed up, and I'm pretty sure it's the coolest World Cup I have ever competed in."