Steamboat Springs Hockey, 2008-09
Dec. 5, Steamboat 3, Aspen 2 at King of the Mountain Tournament; (1-0)
Dec. 6, Steamboat 4, Battle Mountain 0 at King of the Mountain Tournament; (2-0)
Dec. 6, Steamboat 8, Summit 4 at King of the Mountain Tournament; (3-0)
Dec. 12, Steamboat 4, Standley Lake 2; (4-0)
Dec. 13, Steamboat 6, Mullen 1 at Colorado Academy; (5-0)
Dec. 19, Steamboat 3, Chatfield 2; (6-0)
Dec. 20, Lewis-Palmer 4, Steamboat 0; (6-1)
Jan. 9, Pueblo County 3, Steamboat 1; (6-2)
Jan. 10, Steamboat 4, Rampart 1; (7-2)
Jan. 16, Steamboat 4, Doherty 1; (8-2)
Jan. 19, Battle Mountain 5, Steamboat 2; (8-3)
Jan. 23, Steamboat 6, Liberty 0;(9-3)
Jan. 24, Steamboat 3, Fountain Valley 2;(10-3)
Jan. 30, Steamboat 5, Air Academy 2;(11-3)
Jan. 31, Steamboat 6, Valor Christian 0;(12-3)
Feb. 6, Cheyenne Mountain 3, Steamboat 2; (12-4)
Feb. 7, Steamboat 7, Coronado 2;(13-4)
Feb. 13, Steamboat 4, Pine Creek 0;(14-4)
Feb. 14, Steamboat 2, Palmer 0;(15-4)
Feb. 20 state playoffs begin, TBA
Photo Gallery
Steamboat hockey vs. Pine Creek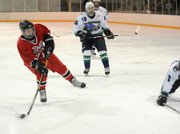 Steamboat Springs — It's interesting what happens when the Steamboat Springs High School hockey team moves its feet.
After a lackadaisical first period Friday against Pine Creek High School, Steamboat started to move, pass the puck and create opportunities.
The end result was a 4-0 win, keeping the Sailors alive for a top-eight seed in the state playoffs.
"If you see it, do it," Steamboat coach Jeff Ruff said. "We started moving our feet and exploiting their holes. It all came together."
Steamboat used the second period to determine the outcome of the game. Scoreless through one period, the Sailors (14-4 overall) scored all four of their goals in the second period, including two with a man down.
Cody Fritz got the scoring going just more than three minutes into the period on a feed from Brady Bender. Skylar Martin made it 2-0 midway through the period, and Fritz and Jim Whelihan scored shorthanded goals just 10 seconds apart to end the period, 4-0.
"We challenged the guys to work a little harder and move quicker," Ruff said. "We scored four in the second period on a team that never gave up."
Now, Steamboat turns its attention to Palmer, a team that sits in second place in the Peak Conference.
Ruff said the game has huge playoff implications, with a Sailors win putting them in a tie for third place in the conference.
"We're going to come out and try and dictate play and get a lot of opportunities," Ruff said. "We want to make that goaltender play a little more. What we need to do is jump up and battle a little more."
The two teams play at 3 p.m. today at Howelsen Ice Arena.